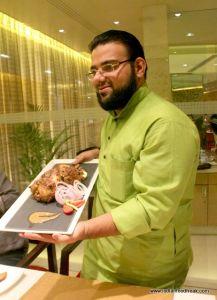 When it comes to food, whole of India is a culinary delight and Delhi finds a very prominent place in it. Ask any food lover and he will swear by the bye lanes of Old Delhi or Purani Dilli. Growing up in one of the bye lanes of Purani Delhi, Mr. Osama Jalali, a food critic and curator, chanced upon the idea of getting his home food to the professional kitchens few years back when he was asked to curate a traditional food festival for the chefs of Oberoi hotels. His mother, Mrs Nazish Jalali, and his wife, Ms Nazia Khan, stepped into the big professional kitchen of Oberoi hotel in Delhi to share the secrets of the old cuisines of Khansamas and since then they have been cooking up a storm in this very special food festival aptly named "Rivaayat e Purani Dilli".
This food festival is going on at Maya, the Indian Restaurant in the Trident Bandra Kurla Complex, from 19th to 29th April 2016. One can select from their exhaustive menu filled with a number of unique dishes.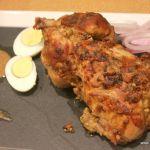 If you ask my favorites, for starters I would definitely vote for Kathal ki Galouti ( Rs.975) and Mewa Mawa kebabs (Rs. 1025). Exquisitely flavourful, these kebabs just melt in the mouth. From the non-vegetarian starter, Kacche keeme ki tikkiyan (Rs.1425) tops the list. From the mains, I loved the Nehari (Rs. 1650). The mutton was very succulent and just perfect. The Rivaayat menu has some very special items in it. One is of course ' Parinde mein parinda' (Rs.2200). This one serves two. This is one of those unique and lost recipes of Old Delhi which Mr. Jalali has tried to revive and thus presented here. It's a whole quail inside a whole chicken, baked in a sealed earthen pot. Then there were Hari mirch keema (Rs.1650) and Murgh saag kofte (Rs.1625). I relished both. When it comes to Mughlai cuisine, the general perception is that, there will not be many choices for vegetarians. But this is not true in this menu. I have already mentioned the starters; in the mains too there are many dishes to choose from. I loved the steamed Gram flour cakes in an onion and tomato gravy or Khandiyan (Rs.1075) and Arbi ka salan (Rs.1075). I also loved the Aloo ka bharta (Rs.1075).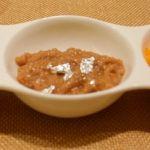 Now the highlight of the menu in the dessert section - Gosht ka Halwa (Rs. 650).
The best and most innovative "old" recipe was saved for desserts;it was unputdownable, silky, smooth and everything one experiences when eating a dessert from the old world. And it was made of Mutton. Yeah,right. Meat fordessert. I was really apprehensive about having mutton cooked in milk as a dessert. That was a first for me. But the moment I put half a spoonful into my mouth, I was blown over. It was just out of the world. I could have finished one big bowl full. If no one told you that that's Gosht, you could never guess it! This is one such lost recipe which Mr. Jalali has tried and revived.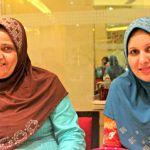 We had the opportunity to meet Mr. Jalali, his mother and his wife. They informed that this is the kind of food which they cook at home. The food was very high on taste and flavor, however they were not overtly spicy. Mr. Jalali's father was a doctor who had the khansamas and chefs around Purani Delhi as his patients. And they showed their gratitude to the good doctor by bringing him food they cooked. These "patients" over the years became family friends and thus started a culinary journey for young Osama.
This Rivaayat festival has been started by the Oberoi group with an objective to revive traditional Indian cuisine in modern times. There had been a Punjabi Rivaayat, a Lucknowy Rivaayat and a Dakshin Rivaayat. This time it is Rivaayat e Purani Dilli, and trust me this is NOT " just another North Indian " food festival.
Ratings out of 5
Mealper personwithout Alcohol: Rs. 1500 plus taxes (Veg) Rs.1800 + Taxes (Non Veg)| Alcohol: Not part of the buffet | Credit Card: Yes|
Timing: 12 30 pm - 3 pm & 7 30 pm - 11 00 pm | Wheelchair access : Yes
Address: C-56, G Block, Bandra Kurla Complex, Mumbai, Maharashtra 400051
Telephone: +91 22 6672 7651 ; +91 22 6672 7610
Disclaimer: This review was done on an invitation from the restaurant. Due judgement and care has been applied by the author to remain objective and unbiased in the review, but readers need to consider this review keeping this fact in mind.