Kitchari (pronounced kitch-a-ree)is a delicious Ayurevedic dish made with rice, mung dhal (or yellow split peas) and spices.  It tastes delicious, like a cross between creamy rice and dhal. 
I like to make it a couple of times a week, it's a great for lunch time and after yoga.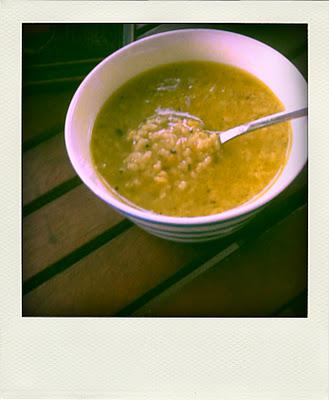 The benefits of Kitchari are many. In Ayurveda, the ancient science of healing in India which dates back 5000 years, the mix of rice and beans is extremely gently on the digestion and is said to purify and cleanse the body of toxins.  It is often used when recovering from illness, surgery, childbirth or in times of emotional stress and it is an excellent antidote to the dietary excess of this time of year - Christmas parties and feasting leave quite a toll on our stomach and liver.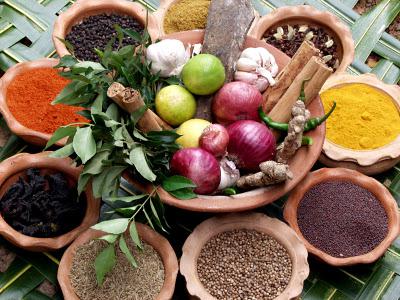 It is deliciously warming on a cold day and cooling on a hot and humid day like today.  I really believe that Kitchari holds magical healing properties because whenever I have it, I always feel lighter, calmer and more relaxed.  I look forward to eating this hearty vegetarian dish.  It is neither soup nor porridge, something in between. If you enjoy congee, then you will enjoy trying Kitchari then for they very similar.


The recipe for Kitchari I am going to share with you today is from my Yoga teacher, Angela.  She is the one who introduced me to the delights of Kitchari.


Ingredients:


1/2 cup basmati or brown rice 




1/2 cup yellow split peas/mung dhal 

1 onion, roughly chopped




1 garlic clove, crushed

1 teaspoon fresh ginger, grated

1 pinch Asafoetida powder (also called Hing, this is important as it cuts out "air" factor of beans)

1/4 teaspoon Fennel seeds

1/2 teaspoon Ajwain seeds

1 teaspoon Cumin seeds

1/2 teaspoon ground Coriander

1/2 teaspoon ground Turmeric

1-2 teaspoons Salt (Saindhava; Ayurvedic rock salt is best)

1 tablespoon Ghee (Ghee is the best as is stable at high temps and is best medium for medicinal properties of herbs to carry into tissues)

1 1/2 - 2 litres of filtered water, approx.

(You could also use black mustard seeds, or yellow mustard seeds, pepper, cinnamon, fenugreek etc, but try to stay at around 2-3 teaspoons total of seeds or dried spices so you don't overload)




Method 


Wash rice and dhal together in a sieve, then soak for at least 1 hour, over night is even better.

On medium heat, warm ghee in a large, deep, saucepan.

Add all seeds and asafoetida, and fry for until the seeds begin to pop, usually a couple of minutes.

Add the onion, garlic and ginger and then fry for a minute or so.

Add the dry spices: coriander, turmeric and then fry for a minute or so.

Add the washed and drained rice and dhal to the pot and fry grains/beans for a couple of minutes in the spices.

Add the 

water, stir through the rice/bean mixture, then cover and bring to a gentle, (and I mean gentle) boil, then put the heat on low and let simmer for anything up to an hour or even longer.  




*Keep checking the liquid when cooking, don't forget to give it the odd stir every now and then so it doesn't stick on the bottom of the pot. You want the rice and peas to break down as much as possible - this will happen much faster for the rice, you will find the peas might not break down all together, which is fine.  You will end up with a soup or porridge-like consistency, neither too thick or too runny.  Sorry, but there is no technical term for that!  Just go with your instincts and frankly, how you think you would like to enjoy it.

Yum!

Avoid using the microwave to reheat any leftovers. 

Kitchari is a wonderful addition to your recipe collection, don't be afraid to get creative with the spices and discover your own delicious version of this wonderful, healing food.    

Bon appétit!


Heidi

Image sources: from my own kitchen and Google.