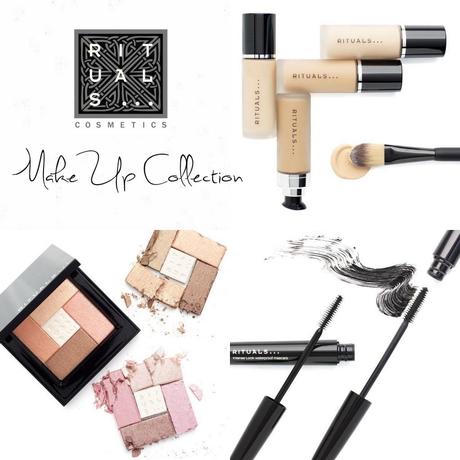 Rituals Cosmetics Make Up Collection
Ritulals Cosmetics presents truly unique makeup line made of valuable ingredients. Ideal for all skin types made of light textures which transform the make up ritual a pleasure every day.
Rituals Foundation

(

€ 19.90

)

 - A light texture that blends perfectly on the skin. Made of  minerals allowing the skin to breathe. available in 7 colors. 

Rituals Eye Palette

(

€ 24.90

)

 - It can be used for both the eyes and the face giving cheeks and eyes a natural fresh color.

Rituals Mascara (€ 14,90) - 

 Rituals offers 4 types of mascaras to suit all needs.

---


Colori, packaging ma soprattutto ingredienti preziosissimi creano una linea maquillage davvero unica! 

Ideali per tutti i tipi di pelle e le loro texture leggerissime trasformano il rituale make up in un piacere da provare tutti i giorni!
Fondotinta Rituals 

(

€ 19.90

)

 - Di consistenza leggera che si 

fonde perfettamente sulla pelle. Minerali puri  

che permettono alla pelle di respirare. Disponibile in 7 

tonalità 

Rituals Eye Palette

(

€ 24.90

)

 - 

Una Palette preziosissima perché oltre a colorarvi gli occhi, è ideale anche per il viso, donando alle guance e agli occhi un colorito 

naturale e fresco.

Mascara Rituals (€ 14,90) - Rituals  propone 4 tipi di mascara per soddisfare tutte le esigenze! 

{
www.rituals.com
}