A few months ago I took to making bagels for my girls' lunch boxes for school.  Let's face it, sandwiches can be monotonous, I remember my mother giving me what felt like the same thing for lunch day in and day out for all my years of schooling - a Vegemite sandwich, a muesli bar and an apple and a frozen drink, if I was lucky.  Needless to say many times I chose not to eat my lunch and bought from the school canteen instead. School lunches these days are a high priority in the morning routine.  My girls' school requests that there be an emphasis on no pre-packaged foods and never any chocolate, lollies, or chips, and no packaging, so a litter-free lunch box must be provided each day. Not that I would food like that in their lunchbox of course! The children police this between themselves often coming home from school telling me where I went wrong.  I was not to use plastic wrap ever! I wasn't supposed to give them cookies - I mean, home-baked chocolate chip cookies - really?  So we came to a compromise, I still put in the home-baked cookies, but now I alternate with home-baked slices, muesli bars and their absolute favorite - bagels.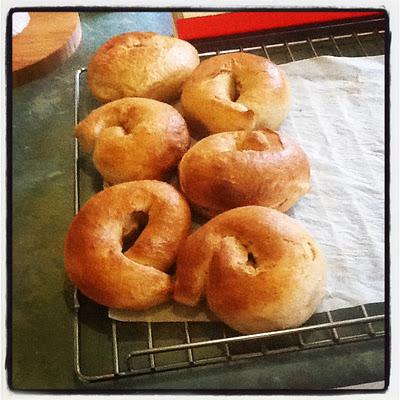 A fresh batch of home-baked bagels cooling down.
The bagels have become something of a ritual for me, and for the family too.  Usually I bake them once a week, sometimes twice, and they always get devoured by my husband and children.  I have to make sure I save some for myself - I love them toasted with either Vegemite or peanut butter and washed down with a nice cafè latte of course.
The bagel recipe I use is full-proof because it is a recipe from Nigella Lawson's How to Be a Domestic Goddess cookbook.  What makes these bagels so good is they are based on a traditional Jewish recipe, so that involves poaching the dough before baking in a super hot oven.  The recipe makes about 15 or so, depending on how big or small you want them to be.  My girls' love to roll out the dough and make them with me, so it's nice to do with family around.  
The recipe calls for strong flour, my flour of choice is organic unbleached Spelt.  The gluten in Spelt ensures a perfect dough, but it is different to wheat gluten, so doesn't have upset my daughter Chloè's gluten intolerance.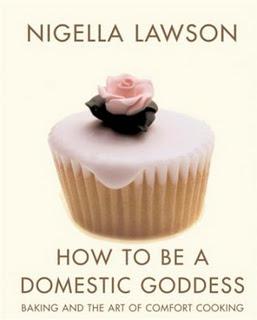 Bagels
1kg strong flour, plus more as necessary for kneading
1 x 7g sachet of yeast or 15g fresh yeast
1 tablespoon of salt
2 tablespoons of sugar (I use an organic raw variety)
1 tablespoon of plain oil (I use Rice Bran oil)
500 ml warm water
2 tablespoons of malt or sugar (I use organic brown sugar) for poaching the bagels
2-3 baking sheets 
Combine flour, salt and yeast together in a bowl.  
Add the sugar and the oil to the warm water and pour into a well in the center of the flour and then mix to combine into a dough.  You can do this by hand or with a dough hook, whichever you prefer.  It doesn't take long to do and I love the feeling of the yeast coming to life in the dough, so I do this by hand.
The dough will be very stiff and quite hard work, but keep kneading until it becomes smooth an elastic, about 10 minutes.
Form the dough into a ball and place in an oiled bowl, turning once to coast all round, then cover the bowl with cling film and leave it to rise for 1 to 1 1/2 hours.  A warm spot with no breeze is best.
Now punch the dough down, then give it another good knead.  Then divide the dough into 3 equal sized pieces.  Roll each piece into a rope, then cut each rope into 5 equal sized pieces.  Roll each piece between the palms of your hands into a ball, and then roll into another rope, circling it round to form a ring.  Seal the ends by overlapping them a little and pinching them together.
At this time, put on a large pan of water to boil.  When it boils, add the malt or brown sugar.
Sit the bagels on the baking sheets, cover with tea towels and levee for about 20 minutes, by which time they should be puffy.  Now preheat the oven to 240C or your maximum oven temperature. 
Now you can start poaching your puffy bagels.  Drop a couple at a time into the boiling water and poach for 1 minute, turning them once.  As you poach them, put them back onto the oiled baking sheets, well spaced, then bake for 10-15 minutes or until they're shiny and golden brown.  Makes 15 bagels.
Once cool enough to touch, dig in!
Heidi
P.S.
*Please note that I have not added all of Nigella's commentary, you can find the recipe in detail in her book.
Sources: How to Be a Domestic Goddess by Nigella Lawson (p.304) from Nigella.com and my own photograph taken with Instagram.