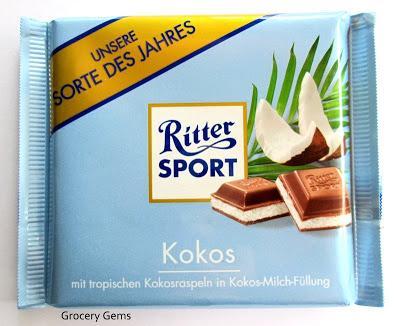 Ritter Sport have chosen an exotic coconut cream flavor as their new "Variety of the Year" bar for 2013. As an ardent coconut fan, the Kokos sounds like a very worthy recipient of that title! It was very kindly sent to me by Monster Sweets, who stock lots of hard to find Ritter Sport bars and other tasty products from around the world. I love the turquoise wrapper for the Ritter Sport Kokos, it's a very simple look but one that instantly gives it a glorious summer look and tropical feel.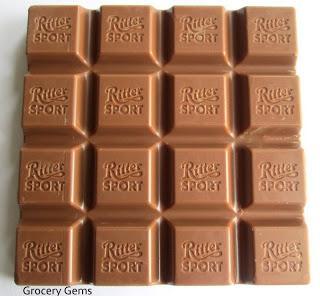 The Ritter Sport Kokos is described as an "Alpine milk chocolate with a coconut milk cream filling and crispy coconut flakes". This all sounds completely heavenly to me, and once I opened up the wrapper the delicious coconut aroma was immediately evident.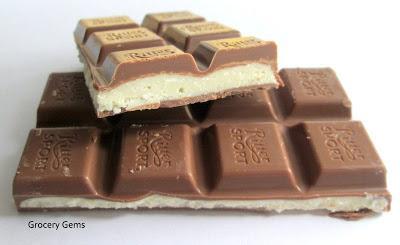 I always prefer coconut when it's actually combined with chocolate, rather than by itself in a sugary Bounty type filling. Thankfully the Ritter Sport Kokos is exactly what I would want from a coconut bar and it's simply one of the best chocolates I've ever eaten. The coconut center is encased in a fluffy white layer which looks and smells sensational from the outset. It tastes similar to a smooth white chocolate, but one that is fully imbued with coconut flavor. This white filling is extremely creamy and indulgent, and proves to be the perfect base for the strong and sweet coconut. Within this, there are also lots of toasted coconut pieces, that are notable for their lovely crunchy texture. Each little piece seemed to provide another extra burst of coconut flavor.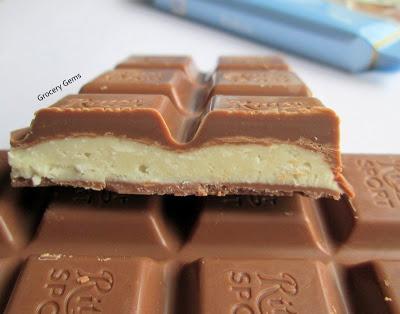 The sweet inner filling is complimented by being surrounded by the Alpine milk chocolate; it provides a rich cocoa flavor with caramel undertones that is an ideal partner for the coconut layer. I don't hesitate in giving this Ritter Sport Koko a 10 out of 10;  for me, it's not just Ritter Sport's "Variety of the Year", it's also the best Ritter Sport bar I have ever tried, and without question my favorite chocolate of the year so far.
I've always found many of the new and Limited Edition Ritter Sport bars to be incredibly difficult to find, which is often very frustrating. Monster Sweets have a great range of Ritter Sport, and lots of other hard to find US and European chocolates, sweets and groceries, but best of all they offer very reasonable prices and  low postage charges. Check out the Monsters Sweets shop here and their full range of Ritter Sport, including the latest Limited Editions here. You can also follow them on Twitter and Facebook for all their product news and even chocolate competitions!


Monster Sweets kindly sent me this product for an honest review but all views expressed are my own.


Other Ritter Sport Kokos Reviews:
Kevs Snack Reviews


Chocolate Mission




Grocery Gems Verdict: Ritter Sport Kokos
RATING: 10 out of 10.
Buy them again?: Yes!
Purchased: Available at Monster Sweets

Price

: £1.55p.