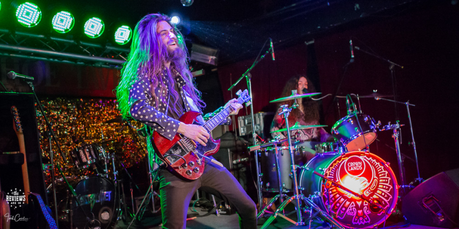 On Saturday night, at a sold out Horseshoe Tavern, Crown Lands played their first show of 2018... and the duo started the new year the way the last one ended, rocking!
While the show was recognized as the farewell gig for Toronto rockers, Last Bullet, it should also be remembered as another step on Crown Lands' journey to the big leagues. The band's T-shirts could be seen throughout the crowd, their drum kit was featured throughout the two opening sets from Hot Lips and Ready the Prince, and it was easy to hear people talking about their excitement for the set more than two hours before they took the stage.
Related: Last Bullet, Crown Lands, Ready the Prince, and Hot Lips at the Horseshoe Tavern
We joined Cody and Kevin in the green room just before the show started to talk about where they're at now, where they're going, Rush, and more. And in typical fashion (as per our experience with the boys) there were laughs, hugs, and smiles to spare.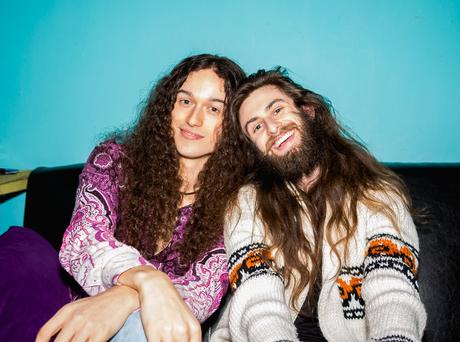 The last time we saw Crown Lands they were opening for One Bad Son at the Phoenix. The crowd was big, there were Crown Lands fans in attendance, but it was clear that the majority were in the room because a nationally celebrated, radio star rock band was headlining the bill. But on Saturday night, at arguably Toronto's most celebrated and legendary venue, they were far more responsible for the sold out attendance.
We got a cool moment with the band when we told them that people were lined up to the door waiting for the show to start. They'd heard that it was going to be a good crowd, but they hadn't seen it yet, having been backstage since they finished their soundcheck earlier in the evening. To see the excitement and awe on their faces was special. Too often the picture of rock and roll and the music industry is one of ego or even apathy after someone has seen everything... but for these two young musicians, it's still real and new and special and serves to show them that they're on the right path.
When Crown Lands took the stage in front of that sold out crowd, to the cheers of Toronto, and the validation that they belonged, the boys embraced in a pre-show hug (that elicited another loud cheer from the Horseshoe faithful) and then they went to work.
From the top, opening with Being Right and Mantra, Kevin and Cody were all in, giving what they had to offer in energy, enthusiasm, and music in return for the energy and admiration of the crowd. It was an excellent example of the two-way street that is rock and roll. A pumped up crowd will die down if the band can't match them, and a high energy band risks a let down if the crowd isn't there to meet them at their level.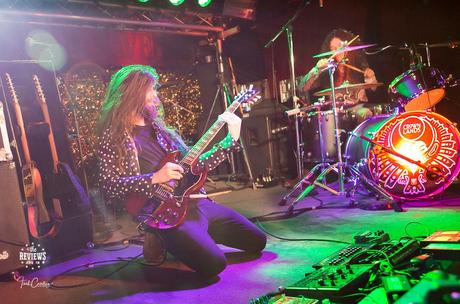 One of our favourite moments backstage was unrelated to Saturday night's show. It wasn't particularly linked to anything other than the band's love for Canadian rock and roll legends, Rush, and my love for the movie Fanboys.
In the 2009 film, Hutch (played by Dan Fogler) is the biggest Rush fan on the planet, and in his sweet, sweet van is a case of cassettes... all Rush.
When I asked the boys if they knew the movie, it took very little time for us to be on the same page and get to Hutch and the cassettes and quotes from the movie, including, "Rule number one: In my van, it's Rush. All Rush, all the time. No exceptions.", and "Rush is variety, bitch.".
Having seen the guys cover Geddy, Alex, and Neil more than once, we had a hunch they'd know the reference, and it was a fun little moment of laughter and love for some of the most influential music in Crown Lands' career.
As their set went on, Crown Lands continued to show that they've worked to improve themselves as musicians and rockers. They told us that improvement through writing, rehearsals, and a determination to become better at their craft has been a big part of who they are as a band. They know that this is what they want to do, the signs are starting to show that they're headed in the right direction, and they want to make sure they're doing everything they can to give themselves a chance at lasting success.
One of those signs is the band's recent deal with Ralph James and Mike Graham at APA. The move to a major booking agency will allow the boys to play bigger stages, in front of bigger audiences, and with a plan to move them forward in their career. They talked about the agency and their history of success, and with Canadian rock acts like Nickelback, Arkells, Sam Roberts Band, and more, it's easy to see why they're excited about having Ralph and Mike as part of their team.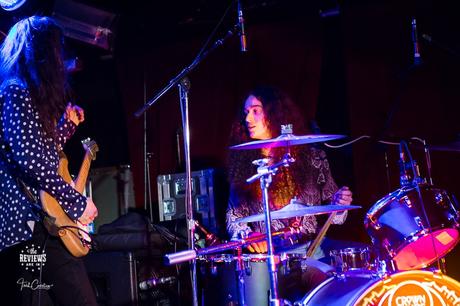 In our review of the Saturday night show, we said "With driving bass throughout, Kevin Comeau's shredding guitar work, and Cody Bowles' drums and vocals all coming together in a retro-laced rocking effort, these two reminded the audience that they're on the way up, and we should all be ready for it."... we stand by it.
The rock and roll sound that Crown Lands creates with only two dudes on stage is their own, but it fits in the rich lineage of guitar/drum rock and roll duos like Death From Above, Royal Blood, The Black Keys, and The White Stripes.
They are few, but they are mighty.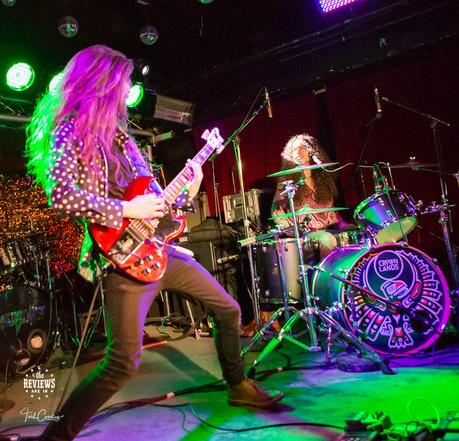 Geographically, the trip from Oshawa to Queen Street West in Toronto isn't all that far. But for two young musicians, it can feel like it's a thousands miles away.
On Saturday night, Crown Lands made the trip, filled the house, and showed 'em all that they are set for the next leg of their journey.
Be ready for it. They are.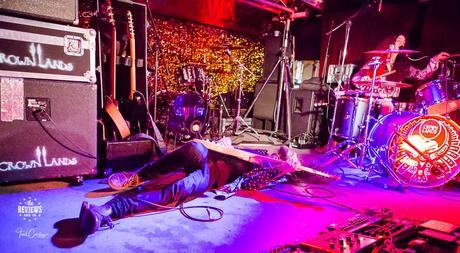 Crown Lands Setlist, Horseshoe Tavern, Toronto (January 27, 2018)
◊ Being Right
◊ Mantra
◊ Misery
◊ Waterfall
◊ Mountain
◊ Leatherman's Blues
◊ Scott Fitzgerald
◊ When The Levee Breaks
◊ Constant Motion
◊ Big River Road
◊ Working Man