Ripped jeans.. yeah its not really new. But its something that never fails to catch the eye unless its our Piggy Chops wearing it at every appearance.
After wearing dresses and shorts and chinos and skirts and blah blah; getting my hands on the right fitting ripped blue jeans came as a pacifier. So I thought to share it with you guys.
Anyway the jeans that already has much to grab attention does not need an overpowering top, so a plain white t-shirt and ballerinas were all that I needed to spend my weekend right.
This one I picked from Zara (TRF). Please don't kill me for its Zara again. Its just that my journalism job does not let me buy River Island, Earnest Sewn and Gucci Genius yet and Zara fits closest to my liking. :)
But sigh I wish I could get a customised one from Earnest. Is the fashion goddess listening?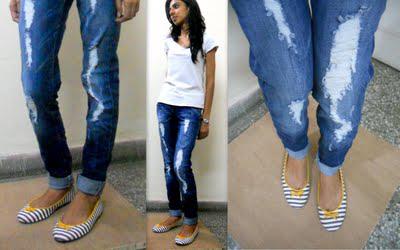 P.S: Guys share your ripped jeans pics too if you love your pair like I do.