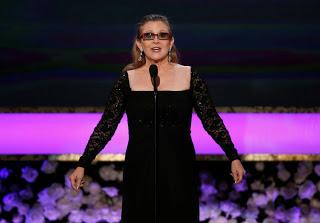 "People want me to say that I'm sick of playing Leia and that it ruined my life.

If my life was that easy to ruin,

it deserved to be ruined." - Carrie Fisher (1956-2016)
This year's offered a spate of atrocious, heartbreaking celebrity deaths. Yet Carrie Fisher's passing at just 60 seems unfair. After a year which saw entertainment legends from David Bowie and Muhammad Ali to Prince pass away, having Ms. Fisher die just short of the New Year is a savage kick in the teeth.
For 95 percent of people, Carrie Fisher will be the plucky Princess Leia from Star Wars. Understandably so: in her physical prime if raw as an actress, Fisher's charming, forceful performance helps ground the original trilogy. Her subsequent film career was somewhat spotty: she landed memorable turns in The Blues Brothers, When Harry Met Sally and Hannah and Her Sisters, yet never became the A-lister one might expect.
Yet Fisher carved out an impressive career as an acerbic, brutally honest writer, chronicling her decades-long struggle with bipolar disorder and drug abuse. Over the years, she's provided wit, insight and inspiration to women trying to make their way in Hollywood. Most recently, she mentored Daisy Ridley, star of last year's The Force Awakens, on how to handle the phenomenal fame headed her way.
RIP to Carrie and all the others we lost this year. If I was lax in recording everyone's death, it's because after awhile it's too depressing.