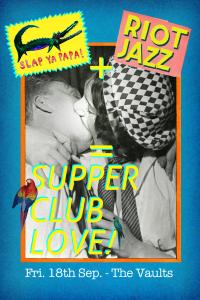 Riot Jazz + Slap Ya Papa = Supper Club Love!
Mes Dames and Misters, Boogie-brothers and Sisters!
Calling all gourmands and good-timers!
Many a moon has set on a Riot Jazz humdinger and many a sun has risen to the sweet scent of a Slap Ya Papa big-feed in the making….
On Friday, September 18th these glorious worlds crash togeher in AN EVENING OF WHOLE-SOUL CATERING TO SATISFY ALL EAR-HOLES & UNDERBELLIES.
HOP ON YOUR GOOD FOOT AND TASTE THE FINE STUFF!

Stand up and be counted for a N'awlins-fire-breathing Saturnalia of all sensations!
Start with a sit-down, end on a hoedown.
• • In the Dance Hall • •
12.30-2am: THEY OF RIOT JAZZ & THE FAT BOYS
A world exclusive celebration of some a-team Riot Jazz Brass Band international brass-stars, teamed up with some of the finest old-time enthusiasts this side of the Mississippi delta. Wring out your dance pants!
Midnight-12:30am: Backa'town Boogie
10:30-Midnight: WANDERIN' RIK WARREN
The bearded cherub of Manchester's legendary sequencer-blues band WALK sets sail on the trail of Johnny Lee Hooker in a hot-shivering reverence of southern soul.
10-10:30pm: Honkytonk Hits
10pm: *Tuba Surprise*
• • In the Banquet Hall • •
8-10pm: DINNER TIME! + Stride piano voodoo, courtesy of BLIND-DOG DADDY'O & THE HOT CATS
7.30-8pm: Jambalaya Juke
7:30pm: *Tuba Surprise*
Slap Ya Papa & Riot Jazz – making people sit down and stand up together since 2015.
LET THE BON TEMPS RULE!
• • • • • • • • • • • • • • • • • • • • • • • • • • • • • • • • • • • • •
TICKETS:
DINNER & DANCE – £35
EARLY-BIRD ALL DANCING/NO DINING – £8 (from 10pm)
• • • • • • • • • • • • • • • • • • • • • • • • • • • • • • • • • • • • •
TICKETS: http://www.skiddle.com/whats-on/Cardiff/The-Vaults/Riot-Jazz–Slap-Ya-Papa-Bayou-Banquet-Soiree/12524456/
Related