After another swashbuckling show of force with our shipmates at Soundwave Festival Croatia, the Riot Jazz machine is revving to roll up to Cumbria's spectaculous Kendal Calling Festival!
In keeping with the festival's spacey theme this year, we're unleashing an inter-galactic thrill-world! Stand up and be counted, it's time for The Inter-Planetary Pump Station!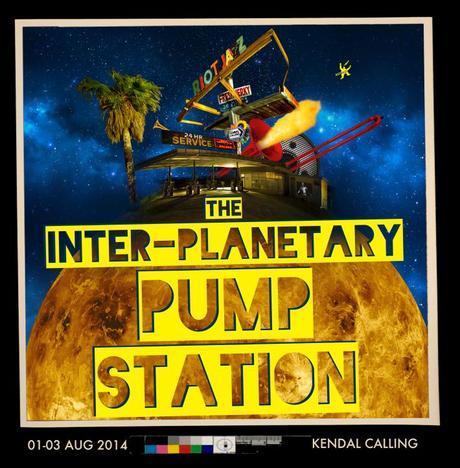 Welcome to The Riot Jazz Pump Station – intergalactic crossroads store, biker bar, juke joint and gas station to the galaxies' unwanted… and the most wanted!
The Riot Jazz Pump Station is a poem, a stink, a luminous sound, a quality of light, a habit, a nostalgia, a dream…
The Riot Jazz Pump Station is the gathered and scattered, iron and rust and torn leather, cracked tarmac and junk heaps; a snake ball of cable, wires, tires and everlasting fires – the fuselage of biker-flight through space and time.
The Riot Jazz Pump Station, on the outskirts of the Milky Way superslab, exists in a not too distant past and a far-flung future, crotch rubbing the space/time continuum between 1983 AD and 3984 AD.
Either way, it's in the eighties, and the spirits of life reverberating in this pulsating haze are, as the man once said, "flatbacks, fleshpeddlers, gamblers and bandits," by which he meant Everybody. Had the man looked through another peephole he might have said, "Saints and angels and martyrs and holy men," and he would have meant the same thing.
To you and I, this figment of machination is best understood as a brackish fluid where the cinematic salt of Mad Max, The Wild One, Easy Rider and The Warriors meets the freshwater sounds of Wham! anno 1983, ricocheting against some of the finest heaving honkytonk and hot-stompin' hooplah between here and the end of the Universe!
Hop on your bad foot and do the good thing – but tread softly!
Be merry and be very, but be wary… for there is one intergalactic biker gang that claims the Pump Station as their own.
But don't let the yard-shark crust sway you, like all steel muffins, these guys are soft on the inside.
 Remember, music soothes even the savage beast!
Related
Tags:
kendal calling, Riot Jazz, soundwave