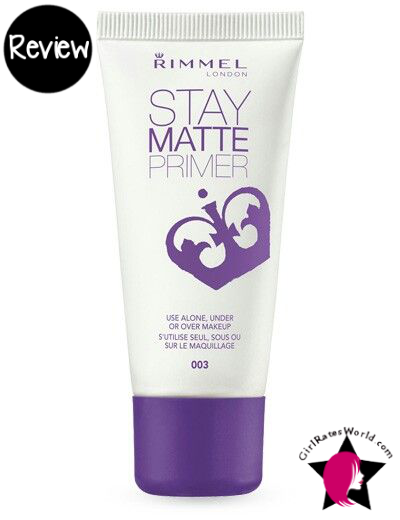 product claims
Rimmel Stay Matte Primer is a creamy-based, oil free formula with a light texture that doesn't feel heavy or greasy. It will deliver all day shine control with a natural looking matte finish.  It also aids in minimizing the appearance of pores. This primer can be worn alone or under makeup.
does it really stay shine free?
Yes! Yes, it does. Pretty amazingly too for a drugstore mattifying primer. Must say one of the best I've encountered in quite some time. I'm usually extremely oily around lunch time (so that's about 4 hours of makeup wear time for me). My oil is no match for the Make Up For Ever Duo Matte Powder Foundation. But when teamed up with Rimmel Stay Matte Primer, I stay shine-free much longer.
it's just a good as the expensive stuff!
Because my oil is soooooo darn uncontrollable, I've convinced myself that spending large amounts of money on products claiming to combat oil is worth every penny pinched and earned. I've been truly loyal to Becca Ever Matte Poreless Primer Perfector – a higher priced mattifying primer. It does the job for the most part; since running out of it, I've been using Rimmel Stay Matte Primer instead. Let me tell ya… I can't tell the difference. In fact, I believe Rimmel Stay Matte Primer is better because it's easier to apply and it's cheaper.
The verdict.
Definitely recommend this product to the oily gal who has given up on finding a drugstore brand primer or mattifyer. It's a great buy and the results have been amazing so far. I use a pea-sized amount each morning after applying moisturizer. After it settles in, I proceed with applying my favorite makeup for covering acne scars then Makeup Forever's Duo Mat Powder. I'm loving the results of this combination.
Product:
Rimmel Stay Matte Primer Review
Review by:
Girl Rates World
Rating:
5
Have you tried this product out yet? What did you think? What do you think of Rimmel drugstore cosmetics? Be sure to let me know your thoughts in the comments below!