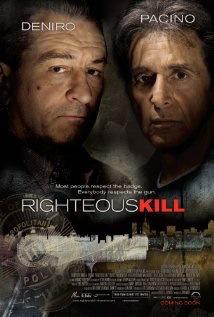 Director: Jon Avnet
Writer: Russell Gewirtz (Screenplay)
Starring: Robert De Niro, Al Pacino, Curtis Jackson, Carla Gugino, John Leguizamo, Donnie Wahlberg, Brian Dennehy
Plot: Two veteran New York City detectives work on a case of serial executions of criminals who escaped justice.
There may be spoilers the rest of the review
Verdict: Heavyweight Casting, Average Story
Story: Righteous Kill starts by introducing us to Turk (De Niro) and Rooster (Pacino) two cops who have been partners for years before showing how Turk is confessing how he had killed people on the force. We also see how the pair worked together to frame a man who was guilty but got off the crime. We continue to see how the pair takes out the trash as they see it.
The next case the partnership take is to take down drug dealer Spider (Jackson) but when their normal methods get the case thrown out the couple find themselves seeing shrinks. Learning that another couple of Detectives Perez (Leguizamo) and Riley (Wahlberg) are investigating the cards left at the crime scenes, which are the guilty men that Turk and Rooster are leaving. Fearing there is a serial killer Turk and Rooster end up becoming the leads case investigating themselves.
As the shrink sessions are showing the differences between the two starts to show, with Rooster coming off calm and collected but Turk is tightening up. Riley and Perez start to suspect that Turk could be behind the killings mostly because of their disagreements between them. As the story continues we learn that not everything is as it seems but all the clues point to Turk.
Righteous Kill is a film that took a lot of criticism which I think is unfair. The problem with this film was that it was sold as Pacino and De Niro together which on paper sounds great but if things don't go well people turn around and says the film is bad. The positive about this film is that the story is actually quite good, it puts you in the position of knowing who the villain should be and watches how things get investigated, but the twist comes (though it is easy to work out) and makes you have to re-watch certain scenes to figure out the truth. I do think if this didn't have the big names in it, we would have had a much more popular film but as a story alone this is very interesting. (7/10)
Actor Review
Robert De Niro: Turk the man telling the story about how they killed people but his reasons is righteous. He starts to crack under the pressure starting to let everything get to him. Robert doesn't give a star performance but still gives a solid one. (6/10)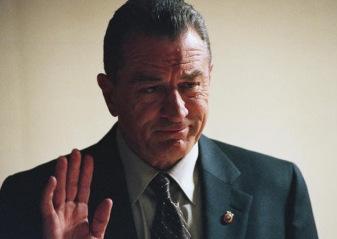 Al Pacino: Rooster slick partner who always seem to be calm during ever situation, he keeps the hot headed Turk under control. Pacino gives a solid performance but not to the level you would expect to see from him. (6/10)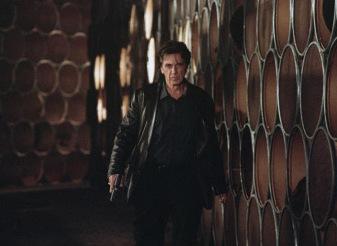 Support Cast: Righteous Kill has the supporting cast of the fellow detectives trying to solve the case that starts to suspect Turk. It also has the victims of the killer who are all criminal in their own right.
Director Review: Jon Avnet – Jon does give us an interesting investigation film with good mystery and thrills but struggles to get the most out of the a-list cast. (6/10)
Action: Righteous Kill doesn't have as much action as you would like to see in a film with this subject matter with nothing really sticking with me. (2/10)
Crime: Righteous Kill enters into the real crime world of potential police corruption. (7/10)
Mystery: Righteous Kill does manage to keep the mystery of who will be next alive well throughout. (7/10)
Thriller: Righteous Kill tries to keep you guessing but the twist seems clear from early on. (6/10)
Settings: Righteous Kill doesn't really make a point of any settings being key to the story. (5/10)
Suggestion: Righteous Kill is one to try, it doesn't deserve to be hated as much as it does. (Try It)
Best Part: De Niro and Pacino
Worst Part: De Niro and Pacino not at their best.
Believability: No (0/10)
Chances of Tears: No (0/10)
Chances of Sequel: No
Post Credits Scene: No
Oscar Chances: No
Box Office: $78.5 Million
Budget: $60 Million
Runtime: 1 Hour 41 Minutes
Tagline: There's nothing wrong with a little shooting as long as the right people get shot
Overall: Righteous Kill has such a heavyweight cast you would expect perfection, look past the mediocre performance and you get a very interesting film.
Rating