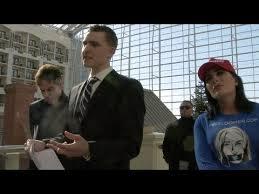 Jacob Wohl ant Laura Loomer
A 21-year-old GOP operative, who is banned from
Twitter
for creating fake accounts, has a accused a freshman U.S. representative of using deceptive tactics to get elected to Congress. Yes, a proven fraudster is accusing someone else of fraud. That's what passes for Republican "ethics" in the age of Trump.
Jacob Wohl and fellow right-wing loon Laura Loomer held a press briefing last week at CPAC in Washington, D.C., claiming U.S. Rep. Ilhan Omar (D-MN) married her brother and engaged in student-loan fraud in order to attain legal-immigrant status and run for Congress. Wohl and Loomer have launched a petition to have Omar removed from the U.S. House Foreign Affairs Committee.
Conservative media outlets have targeted Omar since she ran for the Minnesota Legislature in 2016. The allegations intensified when, in 2018, she became the first Somali-American to be elected to Congress.
The Wohl-Loomer allegations came after the pair joined Ali (Akbar) Alexander -- a fellow GOP fraudster, who has felonies on his criminal history, a record of trolling for gay sex at
grindr.com
, and self-proclaimed ties to Alabama's political and legal establishment -- on an "investigative mission to Minneapolis, designed to produce dirt on Ilhan Omar. Here is how
USA Today
described Wohl's role in the Omar inquiry:
He flew to Minnesota last week to "investigate" the rumor that Somali-American Rep. Ilhan Omar married her brother, a mission for which he tried to fund-raise $25,000 from his online followers.

Wohl's trip to the heartland devolved into bizarre tweets in which he suggested that Minneapolis was so overrun by Somali jihadists that he had to wear a bulletproof vest and travel with a team of "security professionals."
How was the press briefing received outside the right-wing bubble?
Mediaite.com
reports that Wohl and Loomer were widely mocked on
Twitter
-- in an article titled "Twitter Mocks Jacob Wohl's Weird Press Conference Outside of CPAC: 'I Can't Stop Laughing At This'"
Did the right-wing Three Musketeers come up with damning information against Omar? That's hard to say. This is from a report on the press briefing at
spectator.org
:
Rep. Ilhan Omar "married her brother and she defrauded the United States," Jacob Wohl said Thursday afternoon in a press conference at the Gaylord National Resort and Convention Center. Announcing the result of a recent investigation by the website Culttture that took a crew of conservative activists to the freshman Democrat's Minnesota district, Wohl presented the findings of their investigation in

an eight-page report

concluding that Omar's marriage to her brother, Ahmed Nur Said Elmi, was "part of a nefarious attempted immigration scheme… in the service of two federal felonies: immigration fraud and student loan fraud."
If such an eight-page document contained any substance, you might expect right-wingers to have plastered it all over the Web. But we can't find it anywhere, not on
Scribd
, not on
culttture.com
-- a site Ali Akbar founded.
Culttture
provides a brief article about he press briefing, but we see no sign of the supposedly explosive report. One journalist wrote on
Twitter
that the report was marked "Privileged and Strictly Confidential." A press release is deemed "confidential"? I've been in professional journalism for more than 35 years, and I've never heard of that one.
A video of the press conference can be found at
Culttture
, but it appears to contain little of substance. Wohl claims the allegations are supported by "public records, bank records, utility bills, you name it . . . " but we see no sign of such public records in the report. (Note: Ali Akbar does not speak at the briefing, but he can be seen during a scan of the slim crowd at 9:59 on the video.)
How goofy has the right wing's "youth movement" become? We invite you to check out an Ali Akbar video -- at the link below -- about threats and security measures associated with the Minnesota "investigation." Never mind that evidence suggests it was nothing more than a glorified fund-raising effort.
Ali Akbar on
Periscope
about "Little Somalia" trip to Minneapolis
We will give the final word to
Vox's
Jane Coaston, who penned a superb analysis of the Jacob Wohl phenomenon and his most recent press-conference disaster:
To begin with the facts of how we even arrived at this moment: Wohl was at CPAC this week alongside Jack Burkman, a Republican lobbyist with a shady past, to provide evidence of a supposed scandal involving Rep. Ilhan Omar (D-MN). They, along with a host of other people on the internet, claim that Omar's ex-husband Ahmed Elmi is actually her brother and that she married him to help him get US citizenship.


This conspiracy theory is largely nonsensical. First and foremost, there is no evidence Elmi is Omar's brother. Elmi is a British citizen whom Omar married in 2009 before separating from him in 2011. There is no evidence that Elmi and Omar are related in any way.




Meanwhile, it is perfectly legal for a US citizen to petition US Citizenship and Immigration Services (USCIS) to bring a brother or sister to the United States, making it entirely unnecessary to marry one's own sibling to do so.




Importantly, Elmi never received US citizenship (he moved back to England following their separation), meaning that if, under some bizarre circumstance this conspiracy theory were true, the entire reason for the marriage — getting Elmi US citizenship — never actually materialized.
So, why is Wohl targeting Omar, as he did Special Counsel Robert Mueller? Coaston has the answer:
Why Wohl chose Omar as a target for this operation is fairly obvious — like Mueller, she is deeply unpopular with many, to put it mildly. To her critics, she has used anti-Semitic tropes and made anti-Semitic comments. And not to mention that she is deeply opposed to President Trump, and as part of the midterm wave that gave Democrats control of the House in 2018, she received lots and lots of mainstream media attention — but the right argues, little criticism.


But where many conservatives saw a big problem, Wohl and a few others saw an opportunity, in a conspiracy theory that wove together two favored hobbyhorses of the far-right: immigration and Islam. Wohl and right-wing activist Laura Loomer (best known for handcuffing herself to Twitter's New York headquarters to complain about being banned from the service) traveled to Minnesota in late February to find the truth about Omar.
They went with Ali Alexander, a Republican operative and founder of the MAGA-centric website Culttture, which is meant to track the activities of MAGA figures like Loomer and Wohl (the inspiration for the website came from, according to Alexander, an LSD trip.)
But first, they needed funding. On the Culttture site describing the "Investigate Ilhan Omar Fund," the page states that if donors contributed $25,000 to the Fund, the money would support Wohl and his allies so that they could "go to Minneapolis and Washington D.C. to conduct a meticulous investigation into Ilhan Omar in order to ascertain the truth of the allegations against her. The Democratic Media Complex won't!"
In other words, the anti-Omar campaign is a grab for money and attention -- one that is woefully short on substance. How bad was the press conference, after Wohl and Co. had braved the perils of snowy Minnesota? Writes Coaston:
But after facing down the many dangers of Minneapolis, Minnesota,

Wohl's CPAC press conference — which was meant to, according to the press release sent to reporters, provide "clear evidence" that Omar committed immigration fraud by marrying her brother and "should face felony charges" and be expelled from Congress — was a dud. 
Rather than focusing on Wohl's purported findings, reporters spent more time asking Wohl about the collapse of Wohl and Burkman's previous scheme to falsely accuse Robert Mueller of sexual assault

, a plot that backfired so badly that the FBI got involved.

And the "investigation" in which Wohl and Burkman had taken part in resulted in a "confidential" document that revealed absolutely nothing.
Jacob Wohl and his gang appear to be experts at hosting press conferences that prove to be duds.