I had the privilege of attending the Travel & Adventure Exposition this weekend--due mostly to the fact that it was being held in the same building as the Lululemon warehouse sale and my friend found a way to get free entry. However, it was also a great opportunity to discover some new destinations, learn about exciting tour offerings and ride a camel...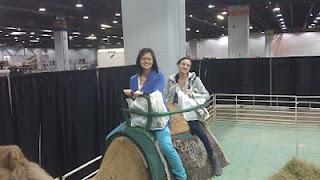 Yes, you heard me right, a camel. To promote some of the safaris in Africa, one of the groups provided a real camel for people to ride. So my friend Bernice and I hit that booth first and hopped on up for a quick lap. It was certainly a good marketing scheme, which is mostly what these conventions are anyway.
The rest of the time was spent wandering around to the different booths, hearing various pitches about what makes this destination so great, or why we should choose this tour provider, or how to enter to win a free trip. There were so many fliers, booklets, and information sheets, that before I knew it, the bag I was carrying weighed at least 10 pounds.
While I certainly received more information than I could possibly ever need, the disadvantage of these kinds of events is that you are bombarded with so much in such a short amount of time, that a lot of stuff can get lost or forgotten by the end of it. I cannot really recall half of the booths I stopped at--unless I sift through all my papers--and I know I entered a few contests, but I'm not really sure which ones they were.
I will say, however, that I gained a lot of insight about places from the representatives there, because they are the experts, and a majority of the time, they are locals. The best way to learn about a place is to talk to the people who actually live there. We got the chance to listen to a Q&A session with travel industry experts about finding the best places to eat when traveling, and the piece of advice they all gave was to find a local coffee shop and ask residents to suggest where to eat. The same goes for activities to participate in, places to see and hotels to stay at. (This is another reason I love Anthony Bourdain's show The Layover, because he talks to locals and rarely refers to travel guides or visits all the big tourist spots.)
The adventure tour booths were some of the most exciting for me to visit. One that looked interesting was Adventure Center, which offers everything from culture & history and wildlife & wilderness tours to cycling and polar voyages. Of the historical trips, Bolivia Highlights or Treasures of Turkey are the first two I would opt for. The Bolivia trip is a 12 day itinerary that explores the region's indigenous country, La Paz, Sucre, Potosi's mines and the Uyuni Salt Flats. The Turkey tour is 15 days and highlights contemporary Istanbul and the ancient remains of older civilizations at site like Troy, Gallipoli and Ephesus. For something a bit more active, the Darjeeling, Sikkam & the Singalila Ridge walking and trekking 15-day tour gives you the chance to explore Tibetan Buddhist monasteries and trek through the forests of rhododendron and magnolia to see views of the Himalayan Mountains. Another one that sounds ideal to me is the Chianti: Walking & Wine tour, a week long stroll through Southern Tuscany's hilltop villages and vineyards.
For my first travel expo, I would say it was a success, though slightly crowded and hectic. I hope to frequent more of these in the future, perhaps when I have established myself more as a travel writer and analyst.
Stay tuned....