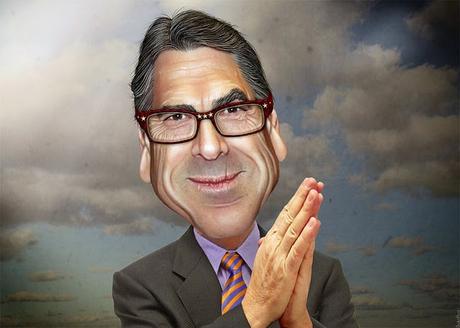 (This caricature of Rick Perry is by DonkeyHotey.)
Evidently Rick Perry saw that seats in the Republican Clown car are going fast, because he has made a reservation for June 4th. According to the Dallas Morning News, that's the day he will officially announce his candidacy for the 2016 Republican presidential nomination.
I think he finally realized that he is being left behind. Even though he has made numerous visits to the early primary and caucus states, he trails badly in all the polls -- getting only 2% to 6% regardless of who is doing the polling. He has also watched big money flowing into the campaign coffers of the declared candidates and Jeb Bush (who everybody knows is running).
Personally, I think most voters still think Perry is not very bright -- remembering his epic flub in the 2012 debate (when he said he would name three things and then could only remember two of them). I also think he's a little too closely tied to George W. Bush, and the GOP is still trying to distance themselves from the memory of his presidency.
Frankly, I don't see a path for Perry to get the nomination. Other candidates have already staked out the territory -- with the libertarians backing Rand Paul, the evangelicals behind Mike Huckabee, the teabaggers loving Ted Cruz and Ben Carson, and the business establishment trying to decide between Jeb Bush, Scott Walker, and Marco Rubio.
To get himself back into the race, Perry is going to have to do something bold and innovative. And that's just not his style. He doesn't have the intelligence to be innovative, or the political courage to be bold. Throughout his career, Perry has just followed in the footsteps of other right-wing politicians -- and that's not going to be good enough this time.
But I don't have a problem with Perry entering the clown car. It just increases the size of the GOP field, and will help to make their "debates" look more like a mob scene than a real debate -- and that can only help Hillary Clinton.