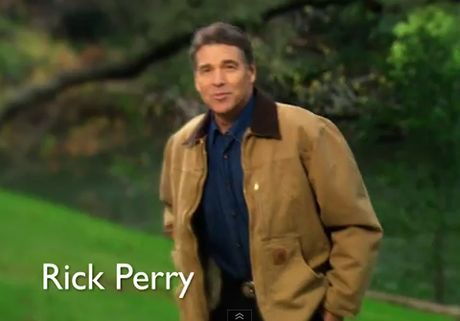 Screen grab from Perry ad.
Rick Perry must be getting desperate. That's the conclusion some commentators are coming to after watching the Texas Governor and former GOP presidential front-runner's latest campaign ad, in which he strongly implies that President Barack Obama is actually the Grinch Who Stole Christmas.
"I'm not ashamed to admit that I'm a Christian. But you don't need to be in the pew every Sunday to know there's something wrong in this country when gays can serve openly in the military but our kids can't openly celebrate Christmas or pray in school. As president, I'll end Obama's war on religion. And I'll fight against liberal attacks on our religious heritage. Faith made America strong. It can make her strong again."
The video, which was uploaded to Perry's YouTube channel on December 6, has been viewed nearly 750,000 times – but mostly by people who hated it: It's already garnered more than 155,000 dislikes to a paltry 3,400 likes. And it's angered a number of gay and lesbian advocacy groups, including the Log Cabin Republicans, a grassroots gay and lesbian GOP organization. Perry stands by his ad, but will anyone stand by him?
Surely this is a parody. That's what you might think, wrote Alexandra Petri at The Washington Post's ComPost blog. "It scrapes the bottom of the demagogue barrel, somehow managing to invoke the dubious menace of Gays in the Military, the War on Christmas, and the need for Faith to Rebuild this Great Nation — in fewer than thirty seconds." And yes, it's true – Obama hates Christmas: "He won't let you sing any carols, except for the one that includes 'gay apparel.' Christmas break? Unheard of. Christmas pageants? Nowhere in sight. There is no White House Christmas Tree. There is the White House Generic Seasonal Pine."
Obama lights the National Christmas Tree:

Commander-in-chief, not 'Theocrat-in-chief'. "Governor Perry is running to be Commander-in-Chief, not Theocrat-in-Chief," R. Clarke Cooper, Log Cabin Republicans Executive Director said in a statement about the ad. "Our nation was built upon individual liberty and individual responsibility, and open service by gay and lesbian servicemembers is directly in line with the vision of our Founding Fathers. It is wrong for Governor Perry to assume being a person of faith does not afford one to support equality. America is at a crossroads and our next President must be someone who is battle-focused on turning around the economy and enabling all Americans the freedom to succeed."
Rejected analogies for Perry's ad. Perry's correlating gays serving openly in the military and children openly celebrating Christmas is certainly a "unique" analogy, wrote Lucas Kavner at The Huffington Post. "But what you might not know is that Perry went through a host of others before his campaign managers insisted he settled on this one." Among them, Kavner claimed, included, "If gay soldiers are allowed to serve openly in the military, we should leave all our lights on in the house and plug as many devices into the walls as possible before we go outside, because the energy crisis is absurd, and this will prove it."
Rick Perry fails YouTube 101, ad becomes meme. Candidates post their ads to YouTube in part so that viewers can see just how popular that is, Daniel Terdiman wrote at CNET.com. But when an ad is as unpopular as the 'Strong' ad appears to be, Terdiman wondered why the Perry social media team neglected to turn off the voting feature. It's too late now. That so many people have been laughing at the ad is also evidenced by the fact that KnowYourMeme.com is tracking the ad's movements through the Internets: Several creative types have posted modified .gifs of the ad, with Perry appearing next to asinine comments such as "The Last Airbender had a great cast" and "Call me old-fashioned, but I think Black votes should only count as 3/5s."