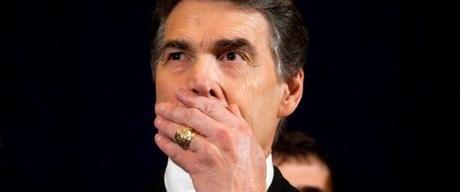 (This photo of Governor Rick Perry is from The Huffington Post.)
Rick Perry, the Texas politician who went from humble origins to being a millionaire in spite of the fact he has never held a job other than elective office, has been indicted by a Travis County Grand Jury on two criminal charges. Finally someone is trying to rein in his abuse of power.
Will he be convicted? Will the case even make it to court (or be thrown out by a right-wing Republican judge)? Will this affect his chances to be the Republican presidential nominee in 2016? Only the future can answer those questions.
Here is how KXAN-TV (the NBC affiliate in Austin) reported the story:


A grand jury has handed up an indictment against Gov. Rick Perry in connection with the investigation into an effort to force Travis County District Attorney Rosemary Lehmberg to resign.

At the center of the issue is a complaint about intimidation stemming from Perry's threat to veto of $3.7 million in state funding to the Public Integrity Unit run by Lehmberg's office. The threat came after she pleaded guilty to drunk driving and served a 45-day sentence; Perry called on her to step down but she refused to resign her position. Perry then vetoed the funding for the PIU.

A grand jury was called to determine whether or not Perry broke the law when he threatened to veto the funding. As a result they issued indictments on two felony charges: abuse of official capacity and coercion of public servant.

An indictment indicates the grand jury believes the state has a strong enough case to send to trial and is not a finding of guilt.