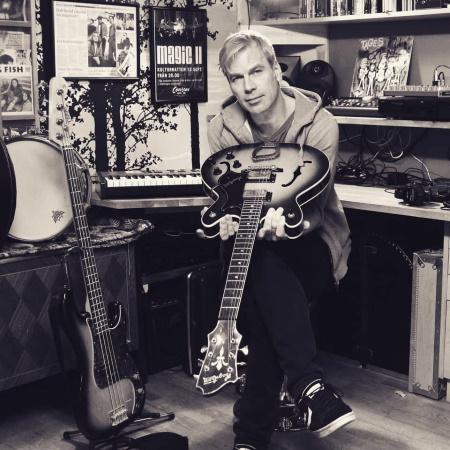 Swedish singer and multi-instrumentalist Richard Öhrn goes back to the heyday of orchestral pop on his solo debut album Sounds In English. As a guitarist for power pop band In Deed he has been part of the music scene for more than 20 years, but going out on his own was never part of the equation. Until now. He has been working on and off on the tracks for years, adding layer upon layer, without smothering the basic idea: infectious melodies with a bite. The subject matter of his lyrics is mostly close to home: the importance of friendships, having a drink, trying to act and look cool, and the need for a lover/soul mate in one's life.
Öhrn played all the instruments himself. Some of them were bought dirt cheap at flea markets. Fellow guitarists will have their work cut for them, trying to replicate his versatility on a 12-string and his acoustic fingerpicking, which is on a par with Jorma Kaukonen. Ken Stringfellow (The Posies) played the main part of the guitar solo on Time's Not Running Out, and added a bit of tambourine and some backing vocals while he was at it. The arrangements and textures of Sounds In English are spot-on. Alternating between luscious and vicious Öhrn has crafted a timeless album that will make his next one will be "the difficult second" record.

Sounds In English is released via Big Stir Records (vinyl, CD, digital). Release date: October 14.
Tracks:
Seal Your Move
5th Month Announcement
Time's Not Running Out
The Coolest Manners
Someone To Forgive You
Love And Friendship
Take This Bottle
Every Shade
I Chose You
Could Have Loved You
If I Could Read Your Mind
Spanish Moon