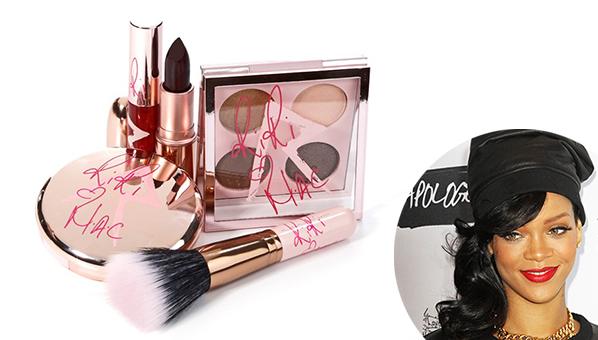 image courtesy of shefinds.com
It's a Matter of MAC
Rhianna's MAC Makeup is coming to a store new you. It was only a matter of time, right? Rhianna is on the move and she is definitely doing grand things for her brand. She'd already began working on her new clothing line. Now she has partnered with MAC to produce her very own MAC makeup line. Hmm…I'm using my psychic powers to look into the future… I see a Rhianna perfume coming next. I mean, why not? Nicki Minaj is releasing another version of Pink Friday. And, let's face it, Ri Ri is expanding from her musical background and building her beauty and fashion empire.
Rhianna's MAC Makeup Line
So what's in it? Well! I'm happy to report there's talks of a RiRi Woo. If you follow @girlratesworld you'd remember the  recent Valentine's Day giveaway of MAC Ruby Woo so I'm super ecstatic that Rhianna is paying homage to her favorite blue-red lip color by creating an inspired version. There also appears to be a plum lipstick, eye quad, stippling brush and a bronzing powder (maybe?); not sure what's in the compact but that's my best guess. I really like the packaging and the shades seem promising. I'm hoping there will be more items added to collection throughout the year.
Rooting for Rhianna
I've always viewed Rhianna as a trendsetter – not only with her fashion, but also makeup-wise.  I can definitely see a big (and successful) future for Rhianna in makeup and fashion. Go RiRi!
VVMZK3WURQPT