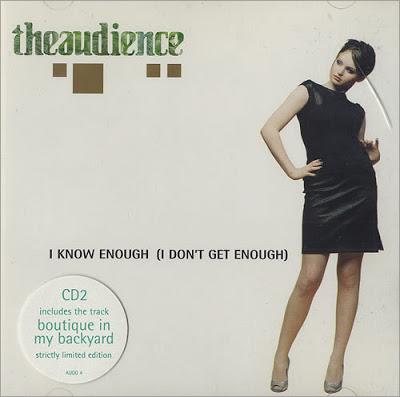 There were some great singles released 20 years ago in the first week of August 1998. This is probably my pick of the week. A jangly, melodic indie pop gem from a short lived but memorable group, which reached number 25 in the UK singles chart. They are best known for launching the career of Sophie Ellis Bextor, who was their singer.
Theaudience weren't a million miles away from other female fronted indie bands of the time, yet they could've never been mistaken for Sleeper or Echobelly. They reminded me more of Blondie covering The Smiths, or Chrissie Hynde fronting The Bluetones, but with a sassy, smartly stylish edge to the music, particularly Bextor's honey-covered vocals. They coupled fizzing indie guitar melodies with sophisticated lyrics more suited to the language of intellectual conversation rather than pop music.
The band formed when DJ and record label press guy Billy Reeves hatched a plan to launch an indie guitar band with a female singer. After meeting Bextor at an indie club night, he formed Theaudience, padding out the band's line up with members who looked and played more like session musicians. Although it sounds like the excited work of a hotly tipped group who are only getting started, 'I Know Enough' was their fourth and final single. Their main songwriter Reeves left the band around around the release of their self titled debut album due to "extreme frustration", and subsequently their label Mercury opted not to release any more singles from the LP. The remaining members cobbled together some music of their own, destined for an unreleased second album which was rejected by Mercury. They apparently disbanded in late 1998. "I signed my first record deal when I was 17 and everything was going to be amazing, and by the time I was 20 we'd split up and I didn't have a deal anymore" remembers Sophie. "In a short space of time I experienced the upwards trajectory and the shift downwards."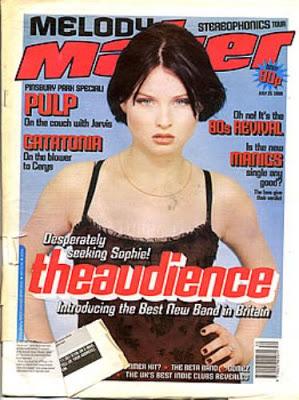 Many of the indie bands of the late 90s were very important for me musically. The songs of that era really did shape my life and musical tastes. But as a 14 year old kid, this band also shaped my taste in other areas too, thanks to their striking singer. The male-dominated music press were forever putting too much emphasis on the looks of female musicians, but in this case it was pretty much impossible for them not to. Glamour and sexiness were not things that I or many others associated indie music with. Then Sophie Ellis Bextor stole the hearts of every indie boy in the country. In 1998, readers of Melody Maker elected Bextor as the 'sexiest person in rock'. After seeing an immaculate 18 year old Sophie on the cover of that same publication, I immediately developed my biggest teenage crush. It wasn't just her appearance, but her sultry vocal delivery; innocent and angelic one moment, authoritive and seductive the next. It was thanks to this ice cool, pouting indie princess that it became my mission in life to find myself someone who I was equally attracted to. I'm sure every man has one teenage crush that took their interest in the opposite sex to new levels. As a 14 year old indie kid in 1998, Bextor was like something from a dream. With that in mind, the lyrics to this particular song were open to interpretation: what does she mean by "I don't get enough of that stuff"? 
During the silence that followed Theaudience's split, I wondered how and why someone with as much talent and star potential as Sophie hadn't been seen for a while. About a year later I hear an uplifting dance track featuring a very familiar vocalist. It turned out to be the unmistakable voice of Bextor, lending her tones to Spiller's massive club anthem 'Groovejet (If This Ain't Love. Suddenly everyone was talking about this striking new singer as if she had appeared from nowhere, when I had been fascinated by her for a couple of years. And the rest is history: it was almost impossible for her not to become a star... Reeves, meanwhile became a sports journalist, producer and broadcaster on BBC London. They only existed for a short period in time, and their singer went on to bigger things, but I still remember Theaudience with a lot of fondness.