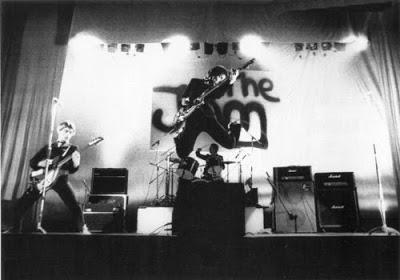 Can a song as amazing as this REALLY have been a mere B side? You can find this on a forthcoming 8 piece vinyl box set featuring all six of The Jam's studio LPs plus four sides of singles and B sides.
 It looks beautiful, it will sound astonishing and it comes out on November 26. 'The Butterfly Collector' was originally released as the B side to '
Strange Town' on 17 March 1979, the single reaching #15 in the UK charts. The same single was released in the U.S. in May 1979. However, for the American release 'The Butterfly Collector' was catalogued as the A-side.
Also included in 'The Studio Recordings' 
boxset will be a 44 page Hardback retrospective on the band with introduction by Paul Weller himself.
The full contents are as below:
Albums:
In The City
This Is The Modern World
All Mod Cons
Setting Sons
Sound Affects
The Gift
Extras-Special Singles: 1977 – 1982 (Volume One):
Side 1
1. All Around The World
2. Carnaby Street
3. News Of The World
4. Aunties And Uncles
5. Innocent Man
6. So Sad About Us
7. The Night
Side 2
1. Strange Town
2. The Butterfly Collector
3. When You're Young
4. Smithers-Jones
5. See Saw
'Extras-Special' Singles: 1977 – 1982 (Volume Two):
Side 1
1. Going Underground
2. Dreams Of Children
3. Liza Radley
4. Funeral Pyre
5. Disguises
6. Absolute Beginners
7. Tales From The Riverbank
8. The Great Depression
Side 2
1. The Bitterest Pill (I Ever Had To Swallow)
2. Pity Poor Alfie / Fever
3. Beat Surrender
4. Shopping
5. Move On Up
6. Stoned Out Of My Mind
7. War