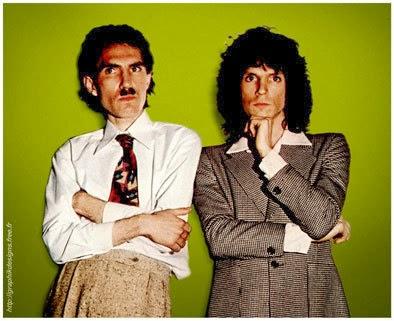 I'm picking this one because I was listening to it in the car on the way back from work today, along with the rest of the brilliant 'Kimono My House' album from 1974. 'This Town Ain't Big Enough for Both of Us' is one hell of a way to open an album. Of course I had to pick the classic 'Top Of The Pop' performance, which I'm sure sticks in everyone's minds after they've seen it for the first time. The visual impact of prancing Russell and the firm stare of a Hitler-moustached Ron on the TV screen is as unforgettable an image as you could get. 'Kimono My House' was the third Sparks album, and reached number 4 in the UK album chart, while the single earned them a number 2 hit. To mark it's 40th anniversary, the duo will be performing the album in full, accompanied by the Heritage Orchestra. 40th anniversary of Kimono My House. Those shows take place on the 
19th and 20th of December at Barbican Hall, London. 
I went to see Sparks play in Bristol last year in 2013. Read a review of that show
HERE
. 
https://twitter.com/sparksofficial