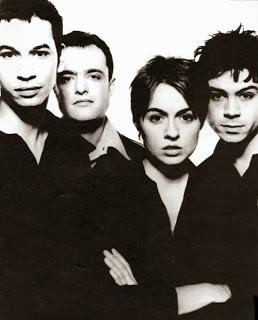 Another one from 1995. In case you didn't know, in my weekly column RW/FF With Ben P Scott I have been recalling my memories of this particular year, and today's installment features my memories of bringing the 'Wonderwall' single into school, only for some Coolio fans (yes, Coolio actually had fans) to label it as "shit". Talk about irony. Anyway, today's song is from Sleeper, whose singer Louise Wener was something of a Britpop sex symbol. Rather than just a piece of eye candy, she certainly had her fair share of talent that's for sure. 
I think I first heard this song (and Sleeper) on a tape that came free with Smash Hits! Hang on, just going to do a quick internet search to see if I'm right... Yes, I am! A cassette called '12 Slammin' Bangin' Hits', which was given away with a May 1996 issue of the mag, and which also featured the likes of not-so-fondly-remembered Scatman John, Michelle Gayle and TLC...
The band formed in 1993 and had eight UK Top 40 hit singles and three UK Top 10 albums before splitting in 1998.
http://en.wikipedia.org/wiki/Sleeper_(band)