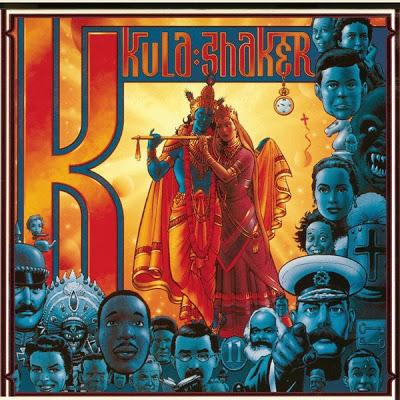 More wonderful music from 1996 as RW/FF takes you aboard a musical TARDIS on a journey through musical history. If you weren't around or were too young to remember the mid 90s, consider this a lesson of enlightenment. If you (like me) were lucky enough to experience it all first time around, then these posts make a fine nostalgic blast from the blast. 
Today (September 16) marks the 20th anniversary of 'K', the debut album by Kula Shaker. At the time of its release, it became the fastest selling debut album in Britain since Elastica's debut the previous year. The album reached number 1 in the UK charts. Here's a very underappreciated band whose sound was a million miles from Britpop, but whose success came as a result of the genre opening the doors for lots of other excellent British guitar groups. At first the music press seemed to really dig them, but as soon as they (deservedly) became popular, the critics suddenly turned on them and spent much of the late 90s attempting to discredit and dismiss them. The truth is that Kula Shaker were no more "cod-spiritual" than The Beatles and all the other greats whose music has absorbed Eastern influences.
Dealing in psychedelica and Indian-flavoured 60's rock, 'K' was a classic and so was its less successful 1999 follow-up 'Pigs Peasants And Astronauts'. After splitting at the end of the decade, frontman Crispian Mills formed The Jeevas with a few members of post-Britpop combo Straw before recording a set of as yet unreleased solo tracks. Kula Shaker reformed in 2005 and released another pair of impressive albums in the shape of 'Strangefolk' and 'Pilgrim's Progress'. After six years away, the band returned earlier this year with their excellent fifth album 'K2.0', and have certainly enjoying a creative resurgence. The highly recommended 'K 2.0' was well worth the wait too, a brilliantly crafted combination of indie rock, psychedelica and the band's trademark Indian flavours. It's also their finest piece of work to date. 
But today we remember this ace single from 1996, which reached number 35 on the UK singles chart. The band will be taking to the road again later in the year for a tour to celebrate the 20th anniversary of the 1996 debut. The album will be played in its entirety for the first time. There will also be a special 20th anniversary edition of 'K' released on November 11th, which will feature a book about the making of the album.