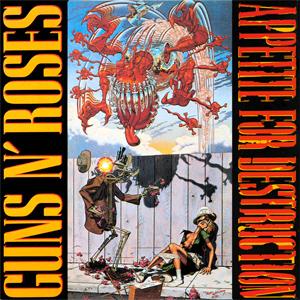 Although I will always love 'Paradise City' and 'Sweet Child O Mine', soon after picking up a copy of the classic Guns N' Roses LP 'Appetite For Destruction' I soon realised that the other (and less overplayed) tracks on the album were (mostly) just as spectacular. I can't remember exactly where I picked up my original vinyl copy of the album, all I know was that it must have been dirt cheap, since the late 90s and early 2000's were the days when vinyl seemed like a second choice to me, and I'd only buy unmissable bargains. Considering my copy of the 1987 album features the o

riginal banned sleeve (which would cause even more offense today), I certainly did get myself a bargain... Selling over 30 million copies worldwide, the album is still the biggest selling debut LP by any American act. 

On the vinyl and cassette editions, the two sides were not conventionally labeled "A" and "B", but "G" and "R". Tracks 1–6 which compose side "G" all deal with drugs and hard life in the big city ("Guns" side). The remaining tracks, which compose side "R", all deal with love, sex and relationships ("Roses" side). 

I've chosen 'It's So Easy' firstly because it rocks, and secondly because of the aggressive, stiff-upper-lip "fuck off" before the guitar solo.