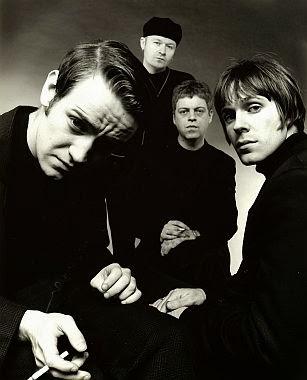 One of the most underrated bands of the 1990's, London-based foursome Gene are one such group who probably won't be reforming any time soon. Since there won't be any new Gene material coming our way, the next best thing would be to hear some unreleased and rare stuff from the now defunct group... and our prayers have been answered... On January 27th, 2014 Edsel Records presents deluxe 2CD editions of the much loved Gene catalogue, including 'Olympian', 'To See The Lights' 'Revelations', 'Drawn To The Deep End' and 'Libertine'. Presented in 2CD casebound editions, and featuring a host of bonus tracks, rarities, and contributions from the band, these are the definitive re-issues of the bands much loved catalog. Their final album 'Libertine' will be getting a vinyl release for the first time.
Gene were formed in London in 1993 by singer Martin Rossiter, guitarist Steve Mason, bassist Kevin Miles and drummer Matt James. Inspired by the songs of The Smiths, The Jam and The Faces, Rossiter's literate vocals and Mason's fluid guitar lines were perfectly complemented by the intuitive rhythm section of Miles and James. They released four studio albums and a collection of B-sides and radio demos between 1995 and 2001, were named Best New Act at the inaugural NME awards in 1995, and went on to score 10 Top 40 hits. Their debut album 'Olympian' was originally released in 1995 and reached number eight in the UK album charts, going silver. They followed up with 'To See The Lights' an LP of rarities, live tracks, radio sessions and acoustic versions of singles. Released on Polydor in 1996, the album went top 20.
'Drawn To The Deep End' (1997) was their second studio album, lavishly produced: filled with strings, guitar solos from Steve Mason as well as Martin Rossiter's warblings and writings of loneliness, with nods towards The Smiths. It included the hits 'Fighting Fit', 'Where Are They Now?' and 'Speak to me Someone'. Moving into new political and heavier rock territory 'Revelations' was recorded in less than a month capturing a more raucous sound. The album charted in the top 30 and included the singles 'As Good As It Gets', 'Fill Her Up' and 'Mayday'. Parting with their label Polydor, 'Libertine' was subsequently released on their own label Sub Rosa in 2001. The album saw them weaving between past attitudes reminiscent of early Gene and seamlessly moving into new territory. With the addition of it being a self release 'Libertine' carried with it an artistic freedom for the band. It was to be their final LP, the band going their separate ways in 2004... It is said that the band felt they were somewhat stuck in a rut, and had achieved as much as they felt they could. After a lengthy absence from the world of music, frontman Martin Rossiter released his debut solo album 'The Defenestration Of St Martin' in November 2012 to much critical acclaim.
https://www.facebook.com/genebandofficial
https://twitter.com/gene_band
https://twitter.com/MartinRossiter