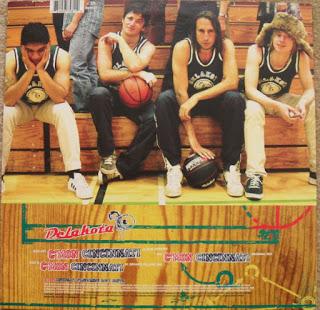 Some big beat indie funk from the brilliant and underrated Delakota. This was released 20 years ago in September 1998, reaching number 55 in the UK singles chart. This single also came with a 12" EP of remixes by Fatboy Slim.
1998 and '99 are years that I will always remember for some amazing songs from new bands, who only reached the bottom end of the charts, before most of them disappeared forever.
Delakota
were one such act. In fact, if this sort of indie band became more popular in the late 90s, they could've helped take guitar music to far more interesting places at the turn of the century.

Their previous single 'The Rock' was a beautifully tranquil song that soundtracked many of my evenings in the summer of 1998. An essential late 90s indie track. I wrote about it HERE. 
Delakota's sound combined the big beat and hip hop sounds of the late 90s with strong indie rock songwriting and a lively, diverse range of influences. Described as an "alternative dance" act, they formed from the ashes of pop-punk outfit The Senseless Things, who split in 1995. Drummer Cass Browne and Morgan Nicholls formed Delakota with Des Murphy (Solid State Revival, Wasteland, Los Bastardos, Genius Freak) and Brian Pearce in 1997. In an interview with musicmuso.com HERE, Browne stated that he was shaken by 
the death of Kurt Cobain in 1994 and as a result, steered clear of guitar music for a while, choosing instead to experiment with samplers: "Everyone had followed the band (Nirvana) from their early 'underdog' status to the behemoth that they grew into (whether they liked it or not!) and it felt to me that if this is what becomes of a band at the height of their career...  I just couldn't listen to guitar music for a long time after that. With Senseless Things over, especially so. I got heavily into soul music; Curtis Mayfield for one, Sly and The Family Stone, more James Brown, Funkadelic. Jimmy Cliff. The Studio One catalog. Sunshine music, really. I got into lots of Hip Hop. I guess it was me trying to stay away from anything that sounded self-depreciating. Kurt really took that to the 9th degree and it really made me want to stay well back from it for the time being. I just needed a complete internal re-invention. I wanted to feel positive."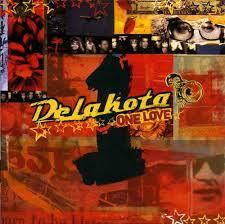 Following 'C'Mon Cincinatti' and 'The Rock', the band made the album 'One Love', an eclectic debut that brings to mind Primal Scream but with a more uplifting, playful approach. Described as "a soulful fusion of hip-hop, big beat and indie rock", it also drew comparisons with Beck and the Beastie Boys. At times it sounds not unlike The Charlatans making a record with Groove Armada, or The Chemical Brothers remixing The Stone Roses. Psychedelica mixed with country, gospel, Stax vibes, dub sounds and an unintentional touch of the early 90s Madchester scene. As well as playing at festivals and being hotly tipped by the music press, Delakota were played regularly on Radio 1's flagship alternative show The Evening Session. 
One of their live appearances was on BBC2's Newsnight, having been invited on the show to represent new British talent after a discussion about the current state of the music industry. While some brilliant and interesting genre-splicing sounds were being created, behind the scenes things didn't seem so positive financially, as Browne remembers years later: "
I was in Delakota, living on £30 a week, laughing my ass off the whole time, drunk and high and really enjoying it! Then I realised I needed to buy more gear as it was getting difficult to make music..." 
The group parted company with their label GO Beat in 1999, and began working on a second album. They released two new singles, but after 2000 they were never heard from again. Either the band went on an extended hiatus, or completely packed it in after Des Murphy quit due to "major label pressure". Nicholls also released a number of singles and an album under the alias Morgan via Source Records in the late 90s, and after Delakota became inactive, he joined Muse as a live member, contributing backing vocals, keyboards and synthesizers to their shows. He also played as part of the Gorillaz live band in 2005 and 2006. Cass Browne was another Delakota band member who made contributions to Gorillaz, performing with them from 2001 until 2010. He was also the author of all the dialog of the vitual band's members, and scripting all the interviews as the characters for magazines who wish to interview Noodle, 2D, Russel and Murdoc.
Des Murphy released some of his own music, before becoming a member of Penguin Cafe, who also feature Cass Browne in their line up. In 2017, Browne, Nicholls and the other two original members of The Senseless Things decided to reform the band after a 22 year split.