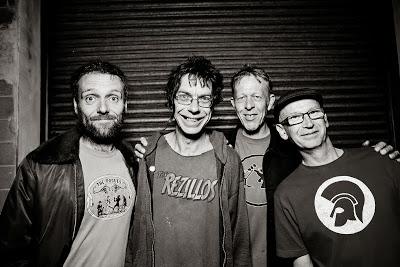 Once upon a time there was a punk band called the Subhumans. They split in the late 80's and soon evolved into Citizen Fish. But bridging the gap in between were the fantastic Culture Shock, whose music stood at the halfway point between furious anarchy and the post-hippy peace-punk that had evolved from the free festival scene. While many of the other anarcho-punk groups were busy singing about rioting and burying Mrs Thatcher, the lyrics that Dick Lucas put to paper would not only address what was wrong with the system, but would also look for solutions and remind the listener of their social responsibilities that would lead many to want to take action themselves. 
Me and Dick Lucas, June 2007
Based in the Wiltshire town of Warminster (although Dick lived at Church Walk in Melksham, right next door to where my Mum and Dad's house was at the time) they created a potent, vitalised blend of dub reggae rhythms, ska riffs, punk energy and even hints of disco. Although America had The Toasters and Fishbone, it took a little while for their bands like Operation Ivy and the Voodoo Glow Skulls to really combine ska and punk in equal measures, making Culture Shock the first of their kind. After three albums (technically 1986's 'Go Wild' was a mini LP, as was 1988's swansong 'All The Time') the band split in 1989 after just three years together, with Lucas and bassist Jasper forming Citizen Fish. Guitarist Nigel died in 1993, seemingly putting an end to any hopes of a reunion. Over two decades later, all three main Culture Shock releases were collected as the 'Everything' CD box set, released on Lucas' own Bluurg Records in 2011. The enthusiastic response to this collection led to some unexpected news being announced recently...
The three surviving members of the band began to "rethink the old adage that 'it's not going to happen', wondering instead whether it COULD happen... The main thing was finding someone who could adequately fill the enormous gap left when Nige passed on." They approached Alex Gordon, trumpet man for Citizen Fish as well as singer/guitarist in ska punks Bender, who apparently "had the ability, and the urge... Bill was only too keen to unpack his kit, and in January we had the first of several practices..." A tour has been confirmed for October, visiting various parts of the UK. The return of this excellent band that time forgot gives me a perfect excuse to dig out my vinyl copy of their masterpiece 'Onwards And Upwards', a fantastic album that ranks as my favorite ever Subhumans/Culture Shock/Citizen Fish moment. From it, here is the awesome 'Fast Forward'... A list of tour dates is below...
Without a doubt one of the most fiercely political and socially aware songwriters to have ever come out of the UK, Lucas is a man who never seems to mellow with age, something which anyone who's witnessed him in action over the last few years will agree with. Even though these songs were written in the late 80's, the lyrics still have a timeless impact and highlight the fact that the years may go by, but the system stays the same. With the reunion of Culture Shock, hearing these fantastic songs being played again after 25 years will be a great thing to witness. Those of us who were too young at the time now have a second chance.
http://www.cultureshock.me.uk/
http://www.subhumans.co.uk/
OCTOBER 2013
TH 3 TORRINGTON the Plough
FR 4 FALMOUTH Rugby Club
SA 5 BRISTOL Trinity Hall
SU 6 SOUTHAMPTON Talking Heads  
TU 8 KIDDERMINSTER Boars Head 
WD 9 MANCHESTER The Big Western
TH 10 DUBLIN Fibber Magees
FR 11 BELFAST Warzone
SA 12 GLASGOW Pivo 
SU 13 EDINBURGH Citrus Club
MO 14 GATESHEAD Black Bull
TU 15 PRESTON Continental
WD 16 BIRMINGHAM Wagon and Horses
TH 17 SHEFFIELD - Academy 2, Arundel Gate 
FR 18 BRIGHTON The Haunt 
SA 19 LONDON T-Chances