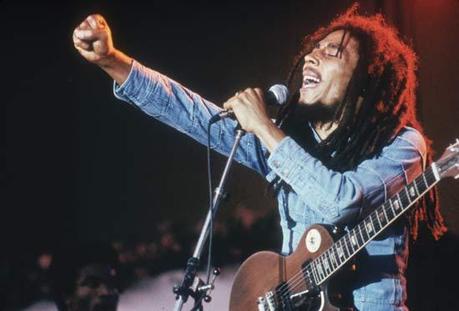 Yesterday (February 6) would have been reggae legend Bob Marley's 70th birthday. To mark the occasion I listened to a couple of his albums yesterday, including the 1979 LP 'Survival'. 
It's an album with an outwardly militant theme, in contrast and probably as a reaction to the laid-back, ganja-soaked atmosphere of his previous release 'Kaya'. From it here is the brilliant 'One Drop'.

Bob Marley's 70th birthday year will include a variety of releases and events to commemorate the legend, his work and iconic impact.  Over the course of the year, his legacy will be remembered by new releases of rare and unreleased material as well as fan favorite deluxe editions of his most memorable work.  The first release will be available on February 17.   BOB MARLEY & THE WAILERS – EASY SKANKING IN BOSTON '78, features two historic live shows from Boston's Music Hall, June 8, 1978.  This new and unreleased performance  is from the Marley family giving unprecedented access for the first time to their  personal material from their private collections and their vaults. The album will be available on blu-ray/cd combo pack as well as dvd/cd and standalone cd versions. Today, Bob Marley remains one of the 20th century's most important and influential entertainment icons. Marley's lifestyle and music continue to inspire new generations as his legacy lives on through his music.