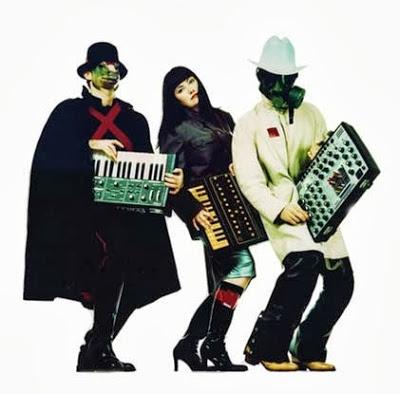 Intrigued by this group's sex-with-a-robot video for 'Metal Fingers In My Body', I decided to go out and buy the single when it was released back in 1999. About a year later came the equally suggestive 'Plug Me In', from the album 'Add Insult To Injury'. The video for this featured a variety of porn actresses having fun with some sex toys. You wouldn't get that in a Coldplay video... I didn't buy the album, and haven't ever got round to giving it a listen, but I did purchase the 7" single which still sits in my collection today, very near the front...
"Add N to (X) were a three-piece British band specializing in electronic music performed on analog synthesizers, formed in London in 1994. The original members were Andrew Aveling, Barry Smith (aka Barry 7) and Ann Shenton. Steven Claydon replaced Aveling in 1997. After several releases on small labels, they turned down offers from major labels and signed to the independent label Mute Records in 1998, and achieved a modest commercial success before splitting in 2003..."
Click the link below for
Add N to (X) - Plug Me In (Uncensored Version).