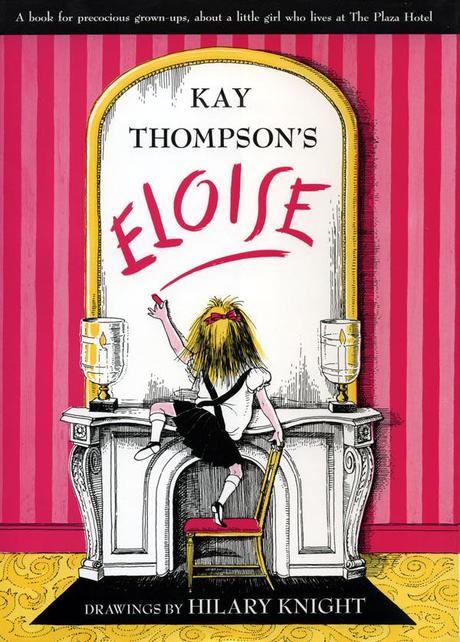 Eloise At The Plaza
We all have a favorite children's picture book – one we read over and over, or that our parents did funny voices for. After revisiting my childhood and experiences growing up through Harry Potter, I wanted to look to some of my earlier literary experiences.
When I was in my local bookstore last week, I perused through the Children's section and picked up some books clearly aimed towards girls. One, the Girls' Doodle Book, included pictures you could finish – mostly structured around things like butterflies, flowers, baking, and nesting. Boys, on the other hand, had a doodle book where they drew inventions, action scenes, machinery. The other was geared towards "tomboys", showing that it's OK to like worms and sports and hate wearing dresses – but in that book, the "girly-girl" was painted as a villain, while the boy and the tomboy, were fun and carefree. No children's book is perfect, I know that. Our society's gender stereotypes and expectations are so ingrained that it's reasonable to expect them to leak through to children's stories.
But it made me wonder about the lessons that my favorite picture books as a kid taught me. I plopped myself on my basement floor in front of my bookshelf of old picture books, and fell in love all over again with my favorite book and favorite children's character: Eloise.
For those of you unfamiliar with the Eloise series, here's a very quick synopsis of her origin story (via Salon):
Eloise, the beloved nuisance of the Plaza Hotel, was born when her creator, Kay Thompson, an actress, singer and vocal arranger, showed up for dance rehearsal 10 minutes late. "Who do you think you are?" demanded Robert Alton, MGM's dance instructor. Thompson responded, "I am Eloise. I am 6." Several years later Thompson teamed up with illustrator Hilary Knight, and in 1955 "Kay Thompson's Eloise" was published.
Eloise lives at the Plaza, and is everyone's favorite sassy 6 year old. She has a pot-belly, stringy blonde hair, and a pink ribbon. She is rawther important and she has a busy schedule of things she absolutely must do every day: she bothers the Desk Clerk, calls several people on the House Phones, takes the elevator up and down, and writes her name in magenta crayon all over one of the most famous hotels in New York. As a little kid, I used to pretend to be Eloise. I said things three times like her Nanny, and begged for a turtle to name Skipperdee. I relished in her active imagination (sawing her doll in half and then taking him to the hospital), her pride in what she can do, and her "rawther full" day where she adjusts thermostats, helps the switchboard officers, spies on Hotel Officers, and pretends she is an orphan to get a piece of melon. I took her motto of "getting bored is not allowed" and loved her proper English Nanny's fondness for boxing.
My love for Eloise taught me to be smart and helpful, to keep my days busy, to never be bored with my life, and to be a little bit sassy. She wasn't classically pretty, but she was rambunctious and beloved by all. I credit her with giving me the confidence to become who I wanted to be and busy myself doing what I wanted to do. Oooo I absolutely love Eloise!
I believe that a small element of Eloise should be placed in all of our children's picture books today – an air of whimsy, or a love of adventures, or an excitement for each day's activities. One of my favorite things about Eloise is that it was originally written for adults and doesn't talk down to the reader. Some of the most successful Kid Lit has grown out of that intended for adults; in fact, the author of Diary of a Wimpy Kid had a piece on it in Time a couple of weeks ago. Perhaps that's the lesson to be learned: in order to make strong, independent women – write for them.
What were your favorite picture books as kids? Did any of them set you down your path to becoming a feminist?
Becka also writes for her own blog, Becka Tells All.