Last year we were sent a pair of kids' shoes which I reviewed here. We were so pleased with these shoes that I bought another pair of VivoBarefoot shoes for Defne to wear for school. (Towards the end of August they had a sale as well, so the shoes were even cheaper than the high street brands) When a couple of weeks ago, they approached me asking if I would like to review a pair of ladies shoes, I happily obliged.
I was sent these lovely Lydia shoes. These shoes come in four colours: Black,brown,salmon and taupe. Mine are brown. They came in a pretty drawstring bag.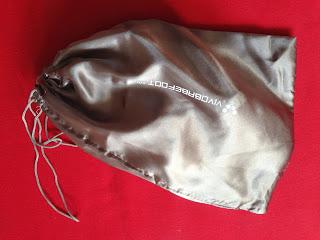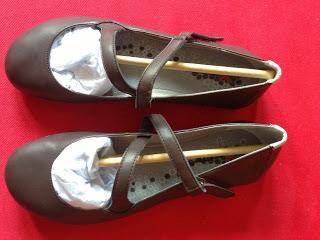 I have wide feet and was hesitant about  the fit. If you have wide shoes, you know what I mean. Most of the  I spent  hours shopping for the "right shoes". I really love ballet pumps but most of them are not great for wide feet.
These Lydia shoes however have these cross straps that support my feet. They are very comfortable and soft. I also like that they are not made from real leather. It is not always easy to find  vegan shoes. I do buy leather shoes as well. But if at all possible, I try to avoid that.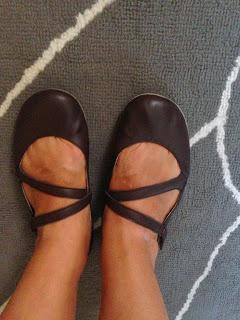 I am not sure if I can wear them during the winter. Not on rainy and cold days outside as they have very thin soles. But I might wear them on the days I go to the nursery school for my practice. as they are very comfy.
Disclaimer:We received a pair of Lydia shoes for the purpose of this review. As always, we only recommend products  that we are really happy with.

Thank you so much for stopping by! If you enjoyed this post, please join us on Facebook,Twitter,Pinterest and G+. Click on the buttons on the right hand side to follow us on these platforms.