The lovely people at Tesco have sent us a selection of their brand new Christmas chocolates. I love chocolate and one of the best perks about being a blogger must be the chocolates I receive! 


The Christmas range at Tesco has been made by the same chocolatiers behind Harrods and Hotel Chocolat.




The ingredients are all of high quality and they are very affordable, ranging from 4 to 20 GBP.


I recieved two products: Tesco Milk Chocolate Gingerbread Stars and Tesco Chocablok Cracking Christmas Pudding.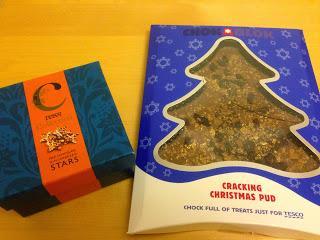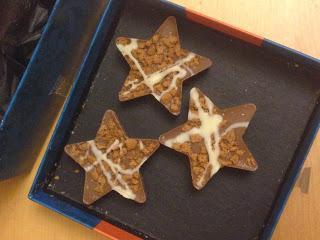 I personally did not like the idea of ginger and chocolate at first sight  but I was wrong. It was lovely,it did not have a distinctive ginger taste at all. This little box retails at 3.50 pounds and currently it is on offer.Two for 6 pounds.
My Christmas pudding was cracked during delivery. So I don't have a close up photo of that one. It was very tasty, with raisins and golden sprinkles. It reminded me of the lovely German Lebkuchen. It is lovely mixture of dark and milk chocolate. It is very intense and melts in your mouth. A small piece was enough to accompany my coffee and was enjoyed by the whole family. This retails at 5 pounds and it is again on offer at the moment, so any 2 are for 8 pounds.
I highly recommend the new Tesco chocolate range as an affordable, great quality. Thanks to Tesco for sending us these chocolates. As always, this review reflects our true and honest opinion.
Thank you so much for stopping by! If you enjoyed this post, please join us on Facebook,Twitter,Pinterest and G+. Click on the buttons on the right hand side to follow us on these platforms.