Conscious Chocolate has kindly sent me some of their fabulous products to review.
They are a small company that produces organic, raw, handmade bars that are free from pesticides, dairy, gluten, soya and refined sugars.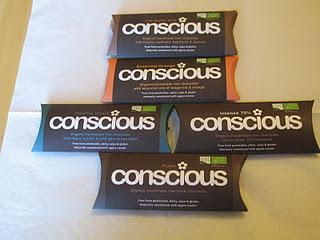 If you haven't tried raw chocolate before,I highly recommend that you try them. They taste very different from the sugar-laden chocolate produced for the mass market. So if your palate is used to very sugary tastes, you might not like these at first. But they are rich and soft, delicate and they just melt in your mouth. Lovely!
It is always said that cacao is healthy. Yes, it is healthy but not when processed/heated and loaded with sugar, full of pesticides and other nasty chemicals. Conscious chocolate is sweetened with blue agave nectar so,suitable for diabetics as it does not imbalance the natural blood sugar levels.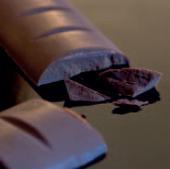 From the website of Conscious Chocolate:
Organic raw cacao is the primary source of the alkaloid Theobromine (Theobroma cacao, the botanical name of the cacao nut tree, literally means 'food of the gods'); it also contains high levels of the flavoniods catechin and epicatechin, which are antioxidants. There is a plethora of information relating to scientific and medical research regarding the health benefits of these substances as well as their therapeutic applications.
I tried the Essential Orange,Coconut and Berry, Minty, Berry Christmas,Plain and the nutty one. The Orange one is the my favourite, smells lovely! I love that they come in a very simple ecologic wrapping.No aluminum foil in your chocolate! These are also suitable for vegans,coeliacs and raw foodists.
You can pick up some Conscious Chocolate on their website and various stockists in the UK. As with all handmade and good quality items, these are a bit expensive, costing £3 per bar. But because they are so rich, and satisfying, one or two bites are enough and you can keep the rest for later!