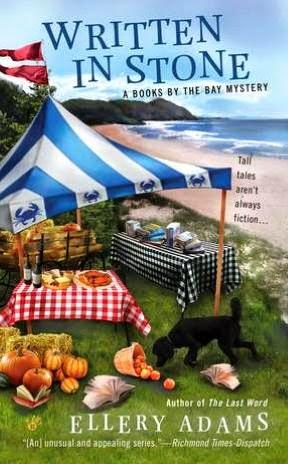 Description (from cover):
'When Munin Cooper, known as the witch of Oyster Bay, warns Olivia Limoges that death is coming, neither of them realize that it is the older woman herself who will soon be found dead. And Olivia's instincts tell her that something--or someone--more sinister than a mystical force is at play.
Olivia has a lot on her plate preparing for the Coastal Carolina Food Festival. When she hears the news of Munin's untimely death, however, finding the murderer takes priority. The witch left behind a memory jug full of keepsakes that Olivia knows must point to the killer--but she's got to figure out what they mean.
With handsome police chief Rawlings by her side, Olivia starts to identify some of the jug's mysterious contents--and finds it secrets are much darker than she suspected. Now Olivia must enlist the help of the Bayside Book Writers to solve the puzzle behind the piece of pottery and put an end to a vengeful killer before any more damage can be done...'
My thoughts:
I think that I've made it plainly clear that I have been enjoying this series. I loved all the books in this series, but I will say that even though I loved this one, this is the one that I didn't enjoy as much as the others. I can't explain why exactly, maybe it was that this one didn't focus so much on the coastal scenery as the others. I do love the imagery of the beach that this author portrays and this book features a lot more of the Coastal Carolina Food Festival rather then take me to the quaint beach that I have come to love in this series. I love when Adams describes the beach scenes and for me this book didn't have enough of that. I understand that she probably wanted to switch up the series a little bit, but for some reason I just couldn't love this one as much as the others.
Munin Cooper is the old lady who everyone finds to be strange and local legend has it that she is a witch. She summons Olivia and Olivia meets with her. At that meeting, Munin warns Olivia that death is near and that she should be careful. Olivia shrugs it off and goes home and continues with her life. A week later, Olivia is shocked to find out that Munin has been found dead under mysterious circumstances. Unfortunately, the local police department rule Munin's death as an accidental death and the case is closed. Olivia cannot ignore the hunch that she has that something sinister is at play. Using her trusty poodle, Captain Haviland and her friends in the Bayside Book Writers to solve this local mystery.
Adams uses history and introduces the reader to the local Lumbee Indian Tribe (which is a real tribe in the state of North Carolina). I love how much the author did her research for this novel as it really shows when describing the Lumbees and their way of life. I just wish that the author would have let Olivia spend more time at the beach then attending the festival. Still a great read that keep me flipping page after page. I had no idea who the killer was and what the motive was until the author revealed the conclusion. Don't let the fact that I thought this book was a little different than the others, I still enjoyed it and found it to be truly captivating.
Overall Rating: 4.5
Title:  Written in Stone
Author:  Ellery Adams
Series:  Books by the Bay Mystery #4
Publisher:  Berkley
Publication Date:  November 6, 2012
Pages:  304
Genre:  Cozy Mystery
Get It:  Amazon; Barnes & Noble
Disclaimer: This book was purchased by myself and I reviewed this book without compensation of any kind. All thoughts and opinions are solely mine.