Directed by Roman Polanski (Chinatown, The Pianist, Carnage), and co-written by Polanski and American playwright David Ives, this film adaptationis based on Ives' own Broadway play, which itself is inspired by Leopold von Sacher-Masoch's classic 1870 erotic novel Venus in Furs. If this sounds like a lot of adaptations, I assure you there are more to come here.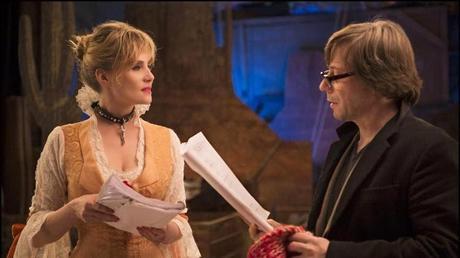 Within the film, Thomas (Mathieu Amalric), a writer-director of a new adaptation of the novel, finds himself involved in an elaborate audition with an intoxicatingly sexy, aggressively energetic and unrelentingly persistent actress (Emmanuelle Seigner) who shares a name, Vanda, with his lead female character. After surviving the storm outside and arriving wet and disheveled well after Thomas has seen his last audition, she convinces Thomas to give her a chance and read with her. To his surprise she not only shows great understanding of the script and the intricacies of the character but has also brought along her own costumes and props.
Continue reading at Graffiti With Punctuation.