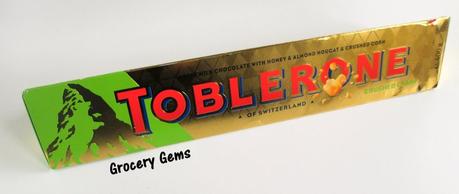 Toblerone Crushed Corn is a special edition which is only available through "travel retail Duty-Free locations". It's a massive 400g in weight and eating one chunk feels like a whole chocolate bar in itself. I only heard about this bar after I reviewed the similar Milka Corn & Choco Forever and it wasn't long before I could ask a holidaying family member if they could buy one at the airport (thanks Mum!).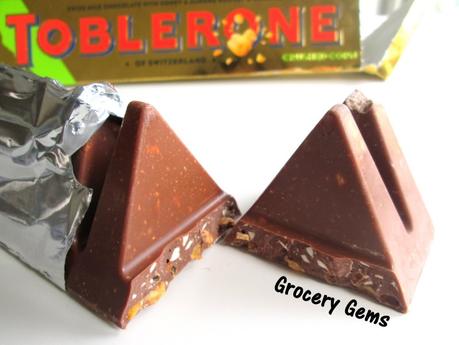 The Toblerone Crushed Corn is a combination of the original Swiss milk chocolate and honey nougat with the addition of crunchy, roasted corn pieces.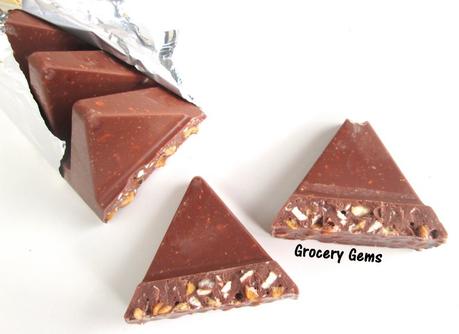 Each Toblerone segment is packed full of both the honey nougat pieces and the roasted corn. It's an interesting medley of chewy and crunchy textures, one that's sure to give your molars a workout. The corn pieces are quite similar to those in the Milka bar in terms of flavor - they're just tasty little pieces of roasted and slightly salted corn. The contrasting sweet and salty flavours of the nougat and corn are surprisingly delicious together and it's a great combination. I'm not sure where the idea of corn as a credible ingredient for chocolate bars came from - but it's certainly winning me over. I can imagine this Toblerone would be successful if it was released in the UK, hopefully that will happen in the future! 
Grocery Gems Review: Toblerone Crushed Corn

RATING: 9 out of 10.
Buy them again?: Yes.


Purchased

: Heathrow Airport

.


Price

: Expensive!