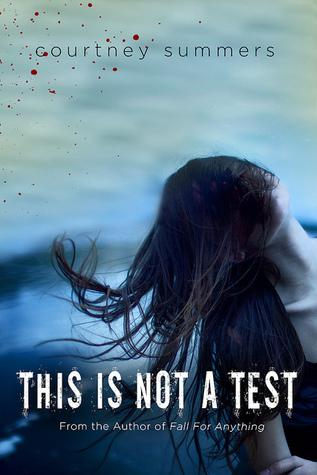 Title: This Is Not A Test
Author: Courtney SummersEdition: paperbackSeries: noneReleased Date: June 19th, 2012Publisher: St. Martin's Griffin
Goodreads

/

Amazon It's the end of the world. Six students have taken cover in Cortege High but shelter is little comfort when the dead outside won't stop pounding on the doors. One bite is all it takes to kill a person and bring them back as a monstrous version of their former self. To Sloane Price, that doesn't sound so bad. Six months ago, her world collapsed and since then, she's failed to find a reason to keep going. Now seems like the perfect time to give up. As Sloane eagerly waits for the barricades to fall, she's forced to witness the apocalypse through the eyes of five people who actually want to live. But as the days crawl by, the motivations for survival change in startling ways and soon the group's fate is determined less and less by what's happening outside and more and more by the unpredictable and violent bids for life—and death—inside. When everything is gone, what do you hold on to?
Honestly, this one didn't do much for me. Let's just start out by saying that. 
I was hoping for so much more with this, because I haven't read many zombie novels and I was hoping that this would end up being one of my favorite zombie books. But that is not the case. This Is Not A Test didn't have very many 'amazing' factors' to it, and everything about it just fell short for me.
Truthfully, I didn't connect with the main character, Sloane. Her sister ran away from her, without telling her why, but all we know about them is that they were super close. There were no flashbacks on their special moments or anything that made the connection between the two characters very strong. Also, I didn't feel bad for Sloane at all. She wanted to kill herself every since her sister Lily left, yet she's forcing herself to stay alive. I don't really understand. Sloane is always making mentions of suicide, and I really didn't even feel sorry for her. The only thing about Sloane that I really liked was that she decided to take risks. She knew her days were limited, so she decided to make the most of it. That made me at least respect her a bit.
The book was kind of boring, because it was the same old things happening. The survivors were actually boring. Harrison was always crying, Trace and Cary were always fighting with each other, Grace constantly tried to break up the fight, and Rhys and Sloane had their little own world. The rest of the time they were eating or sleeping. WOO. Exciting.
Not really. The first third of the book was pretty good, the second third of the book was super boring, and the last third is when things started to get decent. Notice how I said 'decent' and not 'amazing.' This plot was just kind of dragging behind, and I didn't like it.
As you can tell, I was not a big fan of this book. There were some things I liked, such as Sloane's ability to do some risky things, and Trace's relationship with his sister Grace, but otherwise there wasn't much going for this book. I know a lot of people who really loved this book, but I found it boring. I was debating if I was going to mark it did-not-finish, but by the time it got boring I was already a third into the book so I decided to just keep going.