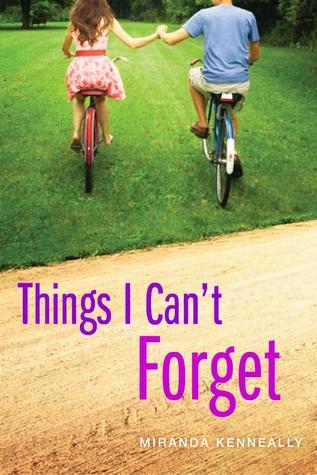 Title: Things I Can't Forget
Author: Miranda Kenneally
Edition: paperback
Series: Hundred Oaks #3
Released Date: March 1st, 2013
Publisher: Sourcebooks Fire
Goodreads
/
Amazon 
Kate has always been the good girl. Too good, according to some people at school—although they have no idea the guilty secret she carries. But this summer, everything is different…
This summer she's a counselor at Cumberland Creek summer camp, and she wants to put the past behind her. This summer Matt is back as a counselor too. He's the first guy she ever kissed, and he's gone from a geeky songwriter who loved The Hardy Boys to a buff lifeguard who loves to flirt--with her.
Kate used to think the world was black and , right and wrong. Turns out, life isn't that easy…
Kate Kelly has been led by her faith since she was young. She looked up to God for answers, constantly prayed, and hate to sin. This past summer, her best friend Emily got pregnant, and Kate helped her abort the baby. Kate believes she has completed a sin and has troubles dealing with it. The summer before college, she helps out at a camp and is reunited with Matt. She finds herself falling in love and doing things she never imagined.
If you've read the first two books of this series, you know the kind of books Miranda Kenneally writes. Each book gets progressively more controversial; this one being the most controversial of them all. The book focuses mostly on religious views, with an emphasis on the sins relating to sex. First of all, I'm not one that's big on religion. I hate a lot of the books dealing with it, so I as wary going into this one. Secondly, I'm not a prude, but I don't particularly find the idea of talking about sex to be very admirable. I expected this to be my least favorite of the Hundred Oaks, but I have to say I enjoyed it just as much as the others. It had the same comical and light feel, but in some spots was heavier and more passionate. 
Kate Kelly is blinded by her faith. She hasn't even been on a date, she doesn't ever sin, and her only kiss was when she was eleven at a church camp. This summer she's working at the same camp she was kissed at, and working with the same guy that kissed her. Kate is very passionate about her faith, and doesn't understand how someone doesn't want to pray, have a connection with God, or talk about religion. She lives and breaths her faith, which makes her very 
judgmental
 when it comes to people not as dedicated to their faith. This being said, I kind of hated Kate in the beginning. She shoved her faith down people's throat and was very persistent about it. I slowly started to like her more as she questioned beliefs and started to actually feel for herself. She felt for herself rather than what the Bible told her to feel, and that's what made her break out of her shell. Kate develops so much throughout the length of this novel, and I feel like a proud reader when I see that in a character. 
Her relationship with Matt was so real and fun. Being with Matt showed the contrast that Kate didn't want to see. Matt was religious, but he wasn't afraid to believe what he wanted. He believed fully in God and prayed to him, but didn't find harm when he was at a frat party. He believed that what he wanted, God wanted. I think that definitely opened up Kate to the world outside of her religion. Besides this, Matt was easy to converse with, fun, and just light. He made intense situations less awkward, which I particularly enjoyed. Pretty much, he's the ultimate boy. Heck, he even loves reading and playing guitar! 
The other minor characters in this novel were wonderful. New characters like Brad, Ian, and even Andrea opened Kate up and made her see life a different way. She was still Kate, but they kind of cracked the shell of King Crab Kate. There were also reappearances of Jordan and Sam Henry from Catching Jordan, and Park and Will from Stealing Parker were two minor characters I loved reading more about. We got to see their relationship develop even more under our eyes. 
I really loved the idea of this book revolving around a church camp. It wasn't too church-y for my likes, and I would have loved to attend a camp like this! It makes me wish I had gone to camp before!  
Since this book occurred the summer before college, these characters will most likely not be appearing in the other Hundred Oaks series. They will be minor characters just spoken about, and that makes me slightly sad. I hate having to leave all the characters that appeared in these three books, especially Matt and Kate. 
I'd suggest that you'd give this a try. I know if you're not big into religion, you may not enjoy this. Who knows, you may like it just like I did and I don't care for religious topics either! Things I Can't Forget was a coming-of-age novel for the older teen audience, and I can't wait to see what Miranda Kenneally has in mind for the other Hundred Oak series!