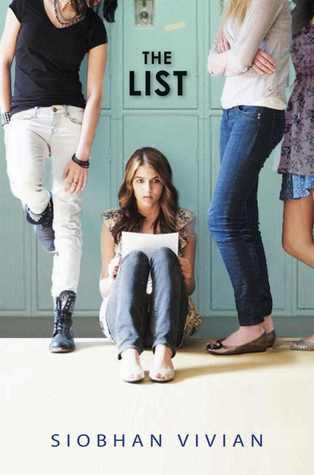 Title: The ListAuthor: Siobhan VivianEdition: hardcoverSeries: noneReleased Date: April 1st, 2012Publisher: Push
Goodreads

/

Amazon 
An intense look at the rules of high school attraction -- and the price that's paid for them.
It happens every year. A list is posted, and one girl from each grade is chosen as the prettiest, and another is chosen as the ugliest. Nobody knows who makes the list. It almost doesn't matter. The damage is done the minute it goes up.
This is the story of eight girls, freshman to senior, "pretty" and "ugly." And it's also the story of how we see ourselves, and how other people see us, and the tangled connection of the two.
Going into this, I expected The List to be light-hearted, cute, and possibly funny. I was definitely mislead, as this novel had many dramatic aspects that you wouldn't expect from this. Here's some of the issues covered: eating disorders, torn friendships, stupid boyfriends, sister rivalry, popularity contests, ugly personalities, homeschooling, protecting parents, worried sisters, and jealousy. To be honest, this novel was crazy with all it included, but in a GOOD way! Siobhan found a way to shine just enough light on all of these aspects.
To be honest, there's no novel quite like this one. There were many point of views that all tied into each other, and Siobhan found away to make the characters semi-developed and easy to connect with! Out of the eight girls, my favorites were Bridget, the 'pretty' junior with an eating disorder; Sarah, the rebellious 'ugly' girl that took her title to the extreme; and Danielle, the 'ugly' dedicated swimmer. Some of the characters actually annoyed me, but after they would annoy me, I'd feel bad for them, which I think was the point. Candace Kincaid was that character for me, because she was the prissy popular girl that got declared the ugly sophomore, because she was ugly on the inside. The one character I wish there would have been a bit more on was Lauren, the home-schooled 'pretty' sophomore. Her story was just kind of jumbled for me and I couldn't exactly understand her at some times.
I think the main plot for this novel was actually the rivalry between Jennifer and Margo. In their plot, they had many different features that kind of made up the whole story. But to be honest, I didn't like these two characters as much as I liked the other ones. If this novel were to be just on pretty Margo and ugly Jennifer, I probably would have given this about a 2 or a 3, rather than a 4.
Usually I have troubles keeping up with the different stories in some novels that have multiple points of view, but this novel was easy to keep track of! The official List was near the front of the book, that had each of the girls, a one-line synopsis of them, and what grade they were in, so you could easily flip back to see who they were if you forgot! For me, after the first few chapters, it was easy for me to determine each girl because each had a unique story!
The ending, let's talk about that. You know how you finish a standalone book, and it's perfect: everything tied up perfectly, their future is described just the way you want it to and you're completely satisfied with the end. Well, that was NOT the case with this book. It just kind of ended, and of course, that would bug any reader!
The List was a quick read that I'd recommend to anyone who likes realistic fiction that has many different aspects! This was my first novel of Siobhan Vivian, but after reading this one, I think I'm going to pick up some of her other ones!