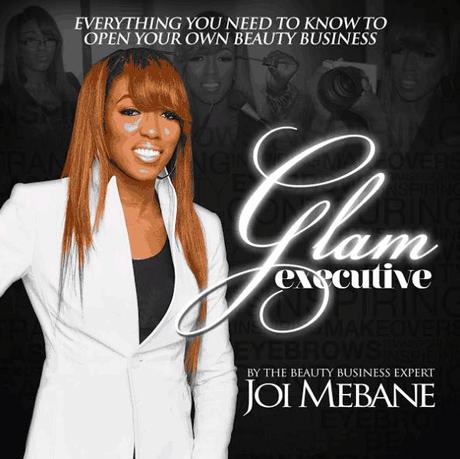 Hey Gorgeous! Last month I was sent a digital copy of this book The Glam Executive: Business Of Beauty by Joi Mebane and today I'm finally ready to review it for you. Keep reading to learn more about this fabulous book.
The Glam Executive written by beauty expert Joi Mebane is the essential book for anyone looking to get into the beauty business, retail beauty advisors, direct sales consultants, estheticans, cosmologists, instructors and students all need the invaluable information it contains.
The Glam Executive serves as the ultimate resource for pursuing any career within the beauty industry. In addition to Joi's expertise, the book features behind the scenes secrets from Michael DeVelliss–creator of The Makeup Show, Beverly Pitts–founder of The Pro Beauty Show, Miami celebrity makeup artist Michelle Cameau as well as Mebane's insight to her own journey of launching a cosmetic line and owning multiple beauty retail operations. "I'm at a point in my career where I can really appreciate the vast experiences I've had," states Mebane. "In the beauty industry, people are not always willing to share their transparent stories with others. I see things totally different. I realize that knowledge is power, and if I can share the knowledge I have gained with those who aspire to excel in this industry, then my mission is accomplishes."
Chapter subjects address the Millionaire Mindset, Time Management, Making and Mastering Planning, Money Management, Personal and Professional Development, Marketing and Mistake-Proofing Your Business. There is also a resource guide full valuable referrals, as well as Joi's personal experience . This book is a must-have for any professional or novice with an easy to read layout and a step-by-step format. While the book is geared towards the beauty industry, the content included is transferable to anyone interested in launching their own business.
I am so happy that I was sent this book because it's amazing it has so much information that is so helpful. Since I am trying to break into the beauty industry myself this book came into my life at the perfect time. I will definitely be keeping this book handy so I can always refer back to it when I need it. I recommend this book to anyone who is currently in the beauty industry or who wants to be. This book is amazing!
Final Verdict: I recommend this book! 5/5
Gorgeous, have you read this book? What is your fave beauty book? Let me know in the comments.
Stay Gorgeous!
PR Sample