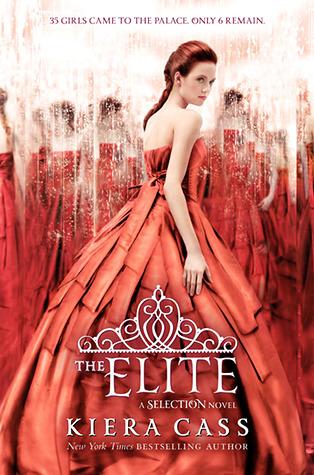 Title: The Elite
Author: Kiera CassEdition: hardcoverSeries: The Selection #2Released Date: April 23rd, 2013Publisher: HarperTeen

Goodreads

/

Amazon The hotly-anticipated sequel to the New York Times bestseller The Selection.


Thirty-five girls came to the palace to compete in the Selection. All but six have been sent home. And only one will get to marry Prince Maxon and be crowned princess of Iléa.




America still isn't sure where her heart lies. When she's with Maxon, she's swept up in their new and breathless romance, and can't dream of being with anyone else. But whenever she sees Aspen standing guard around the palace, and is overcome with memories of the life they planned to share. With the group narrowed down to the Elite, the other girls are even more determined to win Maxon over—and time is running out for America to decide.




Just when America is sure she's made her choice, a devastating loss makes her question everything again. And while she's struggling to imagine her future, the violent rebels that are determined to overthrow the monarchy are growing stronger and their plans could destroy her chance at any kind of happy ending.


America has made it to the top six - The Elite - of the Selection. Being this close to Prince Maxon means she practically has his heart in her hands. Her only issue is that she doesn't know if she wants Maxon. She's still hung up on Aspen, her ex-boyfriend and current guard. When America notices that her time is running short, she has to make a decision before someone else gets Maxon's heart. 
I honestly don't remember why I fell in love with The Selection. I think I actually liked America in the first novel, if that was possible? Something about me respecting her...? She honestly started to get a little annoying. The novel itself started to get annoying. There were very few redeeming features, simply because scene after scene was redundant, and the characters became predictable. 
America had the continuous struggle between Maxon and Aspen. She still didn't know who she wanted by the second book, and that got a little tiring. She particularly got annoying when she would doubt Maxon's love even though he was confessing his love to her and practically proposing to her! She hated how Maxon was still pursuing the other girls in the competition, and she became extremely jealous. This is what struck me as annoying - it was so hypocritical! America was still secretly pursuing Aspen behind Maxon's back! There were some things that I liked about America though - she was strong and determined. She didn't let the life she was living wipe her of her morals and feelings of the world. She was a little impulsive though, and she did things that I wouldn't have expected her to do. 
Maxon was one of the good things of this novel. He constantly was making me swoon and love him even more. Midway through the book, he would meet up with America and I felt that every scene was the same: America would doubt Maxon, and Maxon would say something sweet to her in return. That's what I was referring to at redundant scenes. I swear, the last few pages of each chapter was Maxon meeting up with America and having Maxon reassure America of his love. He started to get jerk-ish after that. That was kind of the point though - he was supposed to pursue the other girls in the competition to look for a back-up. That made me mad because I wanted him to be with America! 
Then there was Aspen. I picture him as the popular boy that thinks every girl wants him. He was cocky and believes that America was just his. Honestly, he was just stupid and irritating. Aspen would continuously risk America's safety and happiness when he would try and meet up with her. Ugh, get over yourself dude. Just let her be with Maxon and be happy! 
I Liekd that we got to learn more about the other girls that were a part of the Elite. We didn't get to learn more about Marlee, simply because of the situation that happened. That was probably my favorite part of the novel. Wait, that sounds really bad because of the situation. Whatever, I really enjoyed the emotions it made me feel. That was a redeeming quality of this novel. Anyways, we learned more about Kriss, Celeste, Natalie, and Elise. America started to form friendships with some of the girls. My favorite friendships that were formed in this novel were between America and her maids. We saw an inkling at this in the first novel, but it definitely grew in this one. 
Overall, this book is kind of a mixture. The best way to describe it is a dystopian novel with inspirations from fantasy with the castles and kingdom. But honestly, it just resembles the Bachelor with all the girls and drama. I wouldn't suggest this book to everyone, but you may enjoy it! Just a fair warning.