The Double is the second feature film from Richard Ayoade (star of The IT Crowd, director of Submarine) and it is a remarkably assured sophomore work; set in an otherworldly dystopia of sinister lighting and retro-décor the film tracks an alienated young man's descent into destructive paranoia. It is a memorably peculiar, surreal and haunting thriller, with an undercurrent of dark comedy and an unnerving mood that immediately impacts. Ayoade and co-writer Avi Korine (brother of Harmony Korine, Spring Breakers) have used Fyodor Dostoyevsky's 1846 novella of the same name as a source and inspiration.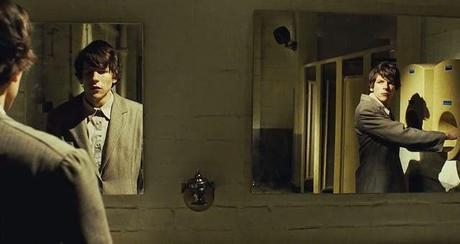 Much of The Double takes place in a drab, dingy Orwellian bureaucratic office where overworked and underpaid clerks like Simon James (Jesse Eisenberg) check in and out and are pigeonholed into stuffy portals. Their work is tedious and repetitious. Despite his thankless loyalty to the firm for seven years Simon has remained just as insignificant as the day he started. His I.D card never registers and he has to prove his identity on a daily basis to the building security guard and his supervisor Mr Papadopoulos ('Mr Inconceivable' himself, Wallace Shawn) believes his name is Stanley. He is also hardly noticed by Hannah (Mia Wasikowska), a colleague he is smitten with. She lives in the apartment opposite him and his evenings involve telescopically spying on her in a disconcertingly predatory fashion. He is too nebbish and shy to approach her, creating obvious and poorly executed excuses to visit her in the copy room.
For the shrinking Simon, nothing fits. He is frequently nervous and sweaty; his oversized suit always crumpled. The inexplicable increases in the rates for his mother's nursing care are lifted unchallenged from his wallet. The opening scene reveals that he doesn't even have authority over a seat on an empty train. His pitiful existence and tenuous sanity begins to further unravel with the existential crises brought on by the arrival of the firm's newest employee, James Simon – his exact doppelganger. While no one else claims to recognize the resemblance, it is not the replications but the differences between the pair that most trouble Simon. The confident, assertive and immediately popular James doesn't just possess some of the qualities desired by Simon, but a crassness and arrogance that are unbecoming but we sense lurk within his damaged psyche. Though the two briefly become friends, it is when James successfully makes a pass at Hannah when Simon goes further off the rails.
Continue reading at Graffiti With Punctuation.