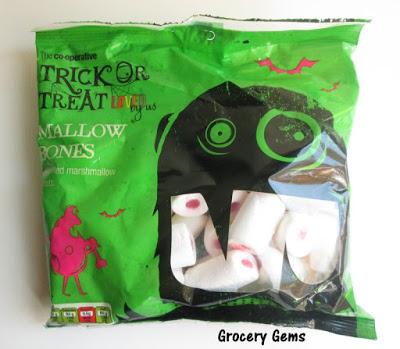 A quick review for these Halloween themed marshmallows from The Co-Operative supermarket. The Trick or Treat Mallow Bones are strawberry jelly filled marshmallow sweets.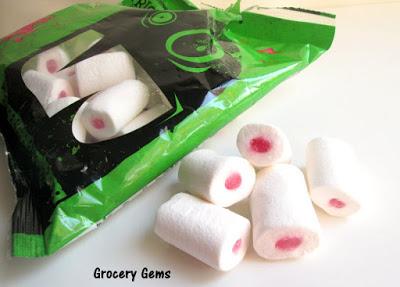 Even though these are fairly simple marshmallows, they do look effective as spooky treats. The combination of the white marshmallow and red filling really does make me think of bloody bones. Thankfully they're not gruesome in terms of taste. I've had jelly filled marshmallows before and they tend to be a bit bland but that's not the case with these Mallow Bones. The strawberry filling is quite delicious and has a strong and fruity flavour, with a sweet and thick texture. It perks up the fairly standard fare of the light and fluffy outer marshmallow. Overall I really enjoyed these and I hope they're brought back next year.
Grocery Gems Verdict: Co-Op Mallow Bones
RATING: 8 out of 10.
Buy them again?: Yes.


Nutrition: 

65 calories (per 20g serving).


Vegetarian: Not Suitable for Vegetarians.


Purchased

:

 Co-Op


Price

: £1.00p.