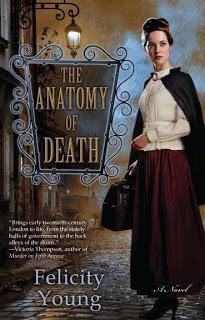 Description (from publisher):
'At the turn of the twentieth century, London's political climate is in turmoil, as women fight for the right to vote. Dody McCleland has her own battles to fight. As England's first female autopsy surgeon, not only must she prove herself, she must prove that murder treats everyone equally...
After a heated women's rights rally turns violent, an innocent suffragette is found murdered. When she examines the body, Dody McCleland is shocked to realize that the victim was a friend of her sister--fueling her determination to uncover the cause of the protestor's suspicious death.
For Dody, gathering clues from a body is often easier than handling the living--especially Chief Detective Inspector Pike. Pike is looking to get to the bottom of this case, but has a hard time trusting anyone--including Dody. Determined to earn Pike's trust and to find the killer, Dody will have to sort through real and imagined secrets. But if she's not careful, she may end up on her own examination table...'
My thoughts:
This was a decent attempt at a first novel for this writer. It had its moments where I enjoyed it, but it really overplayed the whole women's rights and suffragette angle to the point it was tiresome. I was so sick of hearing about this by the end of the book and I am almost embarrassed to say that because I am a woman and should care about this. In fact, I was hoping this book would be a murder mystery, not so much a suffragette manual. The mystery in this one is severely downplayed and it focuses more on the history of the women's rights movement more than the details of a murder and the characters trying to solve it.
It was nice to read about a different time period and a different set of circumstances, but it was really hard for this mystery lover to enjoy a book that features such little mystery action. I am attempting to read the next in this series, Antidote to Murder and I am hoping that this one is a little better than its predecessor. The characters are well-developed and are endearing to the reader and one can't help but enjoy Dody and her sister Florence and their intelligence and general independence. I think that if the author dealt more with the characters and less with the politics of the time period, it could be a really enjoyable novel.
The mystery in this one was pretty slam dunk. Nothing special, nothing outrageous. I wish the author could have been a little more adventurous and made something out of these characters because she nailed that part. I am a historical mystery lover and I wasn't all that impressed with this one, but I am hoping that the sequel brings it to the table or this series will just fall to the wayside of a genre bursting with other books that outstrip it on so many levels. I am hoping that this is a case of the debut blues and that the second one will be much more enjoyable.
Overall Rating: 2.5
Title:  The Anatomy of Death
Author:  Felicity Young
Series:  Dody McCleland Mystery #1
Publisher:  Berkley Trade
Publication Date:  May 1, 2012
Pages:  320
Genre:  Historical Mystery
Get It:  Amazon; Barnes & Noble
Disclaimer: This book was purchased by myself and I reviewed this book without compensation of any kind. All thoughts and opinions are solely mine.