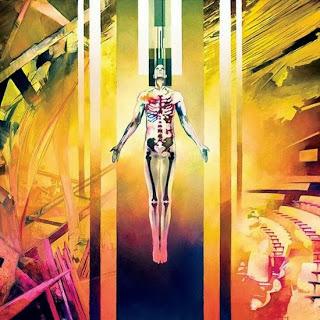 Sometimes the less written about a piece of musical work, the more likely it is that mere words don't do justice in describing it. Teeth Of The Sea's astonishing third album is a record that's impossible to categorise and truly stands on its own in a musical world overpopulated by conformism. Incorporating elements of krautrock, electro-prog, psychedelia, metal and even disco (amongst other things) into a puzzle of cosmic terror, it's a terrific, boundary breaking fusion of sounds. I've been trying not to overplay it, however it continues to astound more and more after every listen, so another dose of this mighty brainfuck can be hard to resist. Utilising a range of otherworldly sounds and reaching deep into their boundless imaginations, the London-based outfit have put together something of a masterpiece (no pun intended).
Introduced by a frightening German android, the opening 'Leder' leads into 'Reaper''s punishing disco textures, where bellowing synths, a 
pounding 4/4 beat and tribal percussion form the basis for a dramatic piece evolving into powerful, industrial post-rock. 'The Servant' delivers awesome suspense, frazzled analog synths and fucked-up trumpets that sound like swarms of wasps, while the mighty thump and mechanical menace of 'Black Strategy' shoots brain-frying sounds through your eardrums, frightening yet mesmerising with its hallucinogenic power and entrancing Moroder-esque synths. Just when you think it can't get any bigger, it does just that and continues to do so throughout every astounding minute, with the brass elevating it to new atmospheric levels.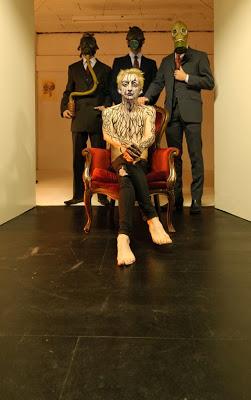 The deeply unsettling 'Pleiades Underground/Inexorable Master' is made up of sinister chords, invoking a cinematic intensity where a doomy thud precedes the ghostly, deep throb of otherworldly noise, followed by doomy, crushing guitars and brief, contrasting spells of tranquility. The extraordinary ambient sci-fi drone of 'Siren Spectre' sounds like a burst of sound beamed in from another planet, and when blaring horns enter and earth shattering drums enter, shivers down the spine can be felt. Muttered spoken word and machine noise makes up the weird and wired 'Put Me On Your Shoulders So I Can See The Rats', which initially may sound slightly throwaway but acts as an interlude rather than a main feature. 
Sounding like fists being hammered against walls, the brutal 'All Human Is Error' reverberates with hypnotic power and deep bass, thriving on the thrilling sensation of noise traveling from ear to ear. Halfway through the closing 'Responder', the mood grows heavier as it threatens to erupt so forcefully, you're scared of what it might do to your ears. As its apocalyptic robo-march climaxes, it serves as the perfect ending to an astonishing album, but 'Master' is more than just an album. It's an experience.
Do yourself a favour and do this record justice by playing it through a good pair of headphones, and then you will be able to feel the full power of the Master. People complain about the lack of unique, original music these days. There's no shortage of that here. Enjoy. 9.2/10
https://twitter.com/TeethoftheSea
https://en-gb.facebook.com/pages/Teeth-Of-The-Sea
teethofthesea.bandcamp.com/‎