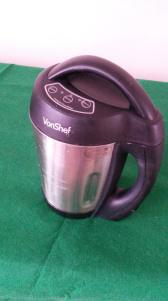 So recently I have moved out of home. In an effort to save money I decided to make soup often. It's something that I wanted to do for a long time but I never really needed to, and it seemed like a lot of hassle in all honesty. However, a friend pointed me to soup makers and I purchased this one for £29.99 off Amazon and I have to say, it's one of the best things I've ever bought. When I first told people about it most of them reacted with surprise wondering why I couldn't just use a pan or a blender, but this soup maker from VonShef allows me to make tasty soup in around half an hour.
All you have to do is chop the ingredients, make some stock, bung them all in and then turn the device on. There are settings for smooth and chunky soup but so far I've only used smooth. I also haven't tried using meat in it yet, but I've read that you have to cook meat before placing it in because it doesn't get hot enough to cook meat from a raw state.
But the whole process takes between twenty and thirty minutes and in that time you don't have to monitor it or check it at all. It's so easy to make a batch of soup that lasts for a few days. Mine has a 1.9 liter capacity and that generally makes three good-sized bowls, so I have a bowl of soup every day for lunch. I've made vegetable, onion & lentil, carrot & parsnip, and potato & leek soup so far. Of these carrot & parsnip has by far been my favorite but I'm looking forward to trying some different combinations, and I might write them up on this blog.
But if you like soup and you want a quicker way to make it, or you just want to eat a bit more healthily then I heartily recommend a soup maker. So far I'm using it about twice a week and I haven't been disappointed yet. It's really easy to clean, doesn't make any mess, and it also makes things like smoothies and cocktails, although I haven't tried making them yet. As far as I'm concerned I've gotten myself a real bargain.