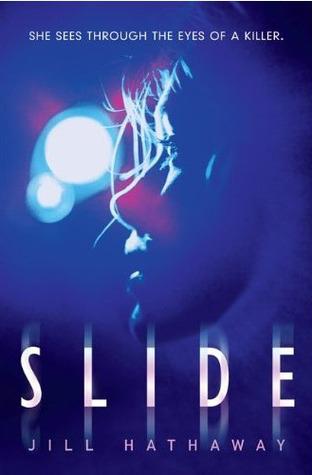 Title: SlideAuthor: Jill HathawayEdition: hardcoverSeries: Slide #1Released Date: March 27th, 2012Publisher: Balzer + Bray
Goodreads

/

Amazon Vee Bell is certain of one irrefutable truth—her sister's friend Sophie didn't kill herself. She was murdered.
Vee knows this because she was there. Everyone believes Vee is narcoleptic, but she doesn't actually fall asleep during these episodes: When she passes out, she slides into somebody else's mind and experiences the world through that person's eyes. She's slid into her sister as she cheated on a math test, into a teacher sneaking a drink before class. She learned the worst about a supposed "friend" when she slid into her during a school dance. But nothing could have prepared Vee for what happens one October night when she slides into the mind of someone holding a bloody knife, standing over Sophie's slashed body.
Vee desperately wishes she could share her secret, but who would believe her? It sounds so crazy that she can't bring herself to tell her best friend, Rollins, let alone the police. Even if she could confide in Rollins, he has been acting off lately, more distant, especially now that she's been spending more time with Zane.
Enmeshed in a terrifying web of secrets, lies, and danger and with no one to turn to, Vee must find a way to unmask the killer before he or she strikes again.
Vee's different from all the people at her school, and not because her hair, her mother passed away, her younger sister is more popular than her, or because her dad's a pediatric surgeon. Vee has the capability to slide - when she touches something that someone else has touched, she falls unconscious and slides into another person's body for a few minutes. Everything goes downhill for Vee, once she slides into the body of a murderer after they killed Vee's sister's best friend. Vee's only choice is to help figure out who this murderer is.
I really really really liked Vee as a character. Her strength was what I respected most in her. Vee grew up without a mother figure for a few years, after her mom's death and her father constantly at work. She easily took on the roll of being the parent to her younger sister, Mattie. Vee does have her flaws though, as she was completely oblivious to love. Vee has her best friend, Rollins, who you can tell is pretty much in love with her from the start. Then this new gorgeous boy, Zane, shows up and she falls for his crazy attempts to get with her. Let's just say, that was a bad choice. I'm all for Vee and Rollins together! The one thing I enjoyed about this romance was that there wasn't much about it. Vee wasn't the type of character that would drop something like a murder to go make-out with a guy. The romance was very soft and light, and I enjoyed that! I hope that the romance will get a little stronger in the next novel, so Vee can have some relaxing time, because she seemed pretty stressed out with all this crazy stuff!
At one point, I thought I had figured out the murderer, like the instant after meeting the person in the book. But then Vee started suspecting that it was the same person, so I was thinking that either I was wrong, or I was right. At that point, I was really hoping that I was wrong, because otherwise the suspect would have been found in like the first half of the book, and that doesn't make it very fun. Even after reading it, and figuring out who the real murderer was, I still have suspicions towards to my original suspect. He had a weak alibi and he still creeps me out! If you've read this, and you think you know who I'm talking about, leave a comment down below!
Let me tell you - there's lots of mystery and deception in this book! I loved that aspect of it! Before picking this up, I was kind of hoping this was going to be like Nancy Drew, where each novel had a different mystery. Then after I finished, I said "no way, this has to continue with this mystery of Zane and Evelyn and all that stuff!" After going on Goodreads, I noticed that the sequel, Impostor, is going to be more of a Nancy Drew. I really was hoping that we'd find more about Zane and Evelyn, and then Vee's relationship with Rollins would grow. Check out the summary on Goodreads, and you'll see that's most likely NOT the case.
Nonetheless, if you love a good mystery, definitely check this one out! If you enjoyed Clarity and Perception by Kim Harrington, then I can guarantee you will have the same feelings towards Slide! Jill Hathaway is so sweet, by the way!