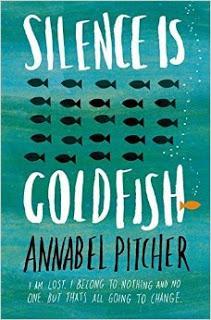 Silence is Goldfish by award-winning novelist - Annabel Pitcher, author of - My Sister lives on the Mantelpiece & Ketchup Clouds.
Fifteen year old Tess accidently discovers that her Dad Jack is not, in fact, her Dad. She was conceived with donor sperm and Jack's honest account of his feelings at the moment of her birth leave a lot to be desired.
Tess is a fat girl, bullied by the most popular girl at school, Anna. Tess's best friend is Isabel is a quirky Tolkien fan who is rarely serious about anything. Tess is quite immature I think, but that can be common for teens with low self-esteem. Rather than confront her 'dad' about her discovery or speak to her mother about it, Tess takes a stand in a selfish way that affects all of her relationships. In some ways I think she is rather self-indulgent and melodramatic, but then I try to put myself in her shoes. She is shocked. She is hurt. She is confused. She has only one friend, who seems unable to be serious for long enough for Tess to confide in her, so she has to deal with this all on her own, whilst being bullied and ostracised. Those teen years can be rough.
She shuts down, shuts off. Selective mutism. An extreme effect of the shock of finding out the secret. A plastic torch in the shape of a goldfish becomes a 'security blanket' item for her.
Many fifteen year olds have probably felt the urge to run away and find a different family, a new - better - nicer - mom or dad. Tess is looking at every blonde-haired male of the large-boned variety to see if their eyes are brown, meaning they could possibly be her father, after discovering the six-hundred and seventeen secret words Jack has typed into a file called DCNETWORK on his computer.
The age-old "who am I" question features large. Who am I, and where do I fit in, is a question many teenagers face in the search for their identity, within and outside of their families. The journey from child to adult is not measured in years alone. There is no magic time span to calculate it. Adulthood is not achieved like a level-up in a computer game, a pre-destined, pre-determined path to reach a certain point and win a prize. Let's face it, if adulthood is the prize, many of us would feel pretty ripped-off. The maturity and self-awareness that marks us as adults, takes longer for some than it does for others. This transition is painful. For Tess, the pain factor shoots through the roof and her mind becomes obsessed with the fact that Jack isn't her father, and that a substitute teacher might be.
Tess is a girl striving for authenticity, but it's hard to be your authentic self when you're not sure who you are. She's lost her sense of belonging, and in her search for it she becomes obsessed with the relief Math teacher Mr Richardson, but he has secrets of his own. The only person left in her word that she trusts is her Gran, and she worries that her parents are going to put her into care.
This story proves the idea that people never say what they mean. This is true of the adults in Tess's life, especially Jack and the neighbor Andrew. They exchange what might seem like morning pleasantries between neighbours, but are more about what isn't said, and are rather passive-aggressive. Tess's parents have been trying to push her to fit in. But is 'this' what fitting in looks like?
Jack tries too hard. He signs her up for things 'he' did in high school, like theater and dance. He is trying to make her be like him because she is clearly 'not' like him, which only reminds him that she is not his trueborn daughter.
Tess's voice carries the story even though she is mute for the better part of the book. Her interior dialog and 'conversations' with Mr Goldfish carry the story forward towards its climax. My favorite Tess-ism is "...and that's a hard fact sitting in my brain, giving me acid indigestion of the mind..."
I found Silence is Goldfish to be compulsively readable, due more to the writing style than the story itself, which did drag at times and seem somewhat repetitive.
It's a quick read. The writing style is chatty from the first person POV. Being mute, being silent, changes Tess. She becomes stronger, braver, if a little crazy with her back and forth discussions with Mr Goldfish, the kids torch she bought on the night she meant to run away. Tess is a likable character, introverted and a little nutty but kind-hearted. She learns a lot about listening while she is mute. Adults become a little too free around her. She is either forgotten or taken advantage of. Either way she learns a lot about adult relationships and secrets. She finds an unexpected ally along the way. Tess's safe, insulated, world is turned on it's head by a secret that is not run of the mill for a story like this; but like most teenagers going through the angst of family drama, and school, and friends, her world rights itself in a way that is realistic and ultimately a satisfying conclusion. I enjoyed it.