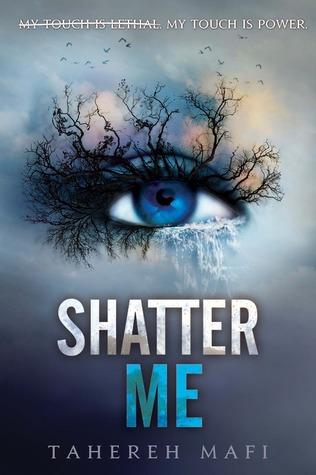 Genre: YA Dystopian
Published: October 2, 2012 by HarperCollins
Series: #1 (Shatter Me)
Length: 340 Pages
Source: bought (at Barnes & Noble)
"No one knows why Juliette's touch is fatal, but The Reestablishment has plans for her. Plans to use her as a weapon. But Juliette has plans of her own. After a lifetime without freedom, she's finally discovering a strength to fight back for the very first time—and to find a future with the one boy she thought she'd lost forever."

After reading Shatter Me by Tahereh Mafi, the first thought that came into my mind was that people are either going to love it or dislike it. This book was just amazing. Let's talk about the writing style first. The writing style was just WOW. It stands out like a person wearing a neon green shirt while the rest are wearing black. BAM! That's basically what got me hooked onto to this book. I wasn't hooked on by the story, I was hooked on because of the writing. What made it unique was that there were sentences, phrases, that didn't have periods at the end, 3 instead of writing it as "three" etc. It didn't follow the rules and it was written like a poem. Another thing is the strikethroughs. You see that "My touch is lethal. My touch is power." right there at the cover? Yup, there's a bunch of those at the first half of the book which I know some people were completely annoyed by, but I wasn't. I think that's what made it unique, but I could see how it could become annoying. It was slightly overdone at the first half of the book, but I wasn't annoyed by it. There are also so many sentences in this book that were crafted brilliantly, and you'll have no choice but to share them on Twitter or make it your Goodreads status etc. Lol. Trust me. The writing style was just bomb dot com.
Now, the story! It starts out with the book's protagonist, Juliette, a 17 year old who was locked up in an asylum for three years because she's different from everybody else. When her skin touches another human, that person dies. Just like that. Suddenly, Adam, a 17 year old soldier who she recognizes from her past, was randomly thrown in her cell and the story takes off.
To me, Juliette wasn't a really kick-ass heroine, but I did love her sarcasm! Even though she knows she could kill people with just one touch, she never used it against anybody which is what amazes Adam. It amazes him how she's so kind and the complete opposite of a monster, which Juliette has been called all her life. I really liked the cast of Shatter Me especially James! Cute 10 year old James who is so independent, and Kenji who is funny as heck. Let's not forget the creepy, weird, bad guy – Warner, a 19 year old who leads the Reestablishment. That guy was just creepy times a hundred.
Overall I enjoyed it. The romance was cute but sometimes a bit annoying because of how they should be running their ass off but instead they kiss, or they should be resting because they just ran a hundred miles, but instead they were baby making (or were about to). I mean, give yourselves a break. xD You guys feel me? Anyways, I recommend it to everyone especially to someone who's in for a dystopian book with fantasy elements in it! Check this book out. Oh, one more thing, the ending was just fantastic.